First night in Barcelona w/ the dinner they made!
Howdy! I'm currently on spring break and just got back from my two weeks of straight traveling. It was insane, tons of fun, adventurous, and a once-in-a-lifetime past couple of weeks. It all began in Spain. I flew to Barcelona and met Julie at the airport on April 4. We bumbled around the airport trying to find food (which was a fail - the sandwiches sucked and nothing looked appetizing). We decided to go straight to the hostel and figure out the metro.
Our hostel was the best hostel I've ever stayed in - hands down! Hostel One Paralelo is a pretty small-sized hostel with nice, modern looking digs. I love modernity. This trip has solidified that fact. The staff there was super friendly and they even saved us two plates of dinner (a lot of nights the staff cooked and everyone ate family-style). The dish they prepared had bacon in it (pasta carbonara), so I passed and the guy who worked there was so nice to make me an omelette! It's interesting because I'm not sure if this is true for a lot of Spanish cooking in general, or just this guy's style, but the omelette had cinnamon in it and the pasta did too. It was really interesting!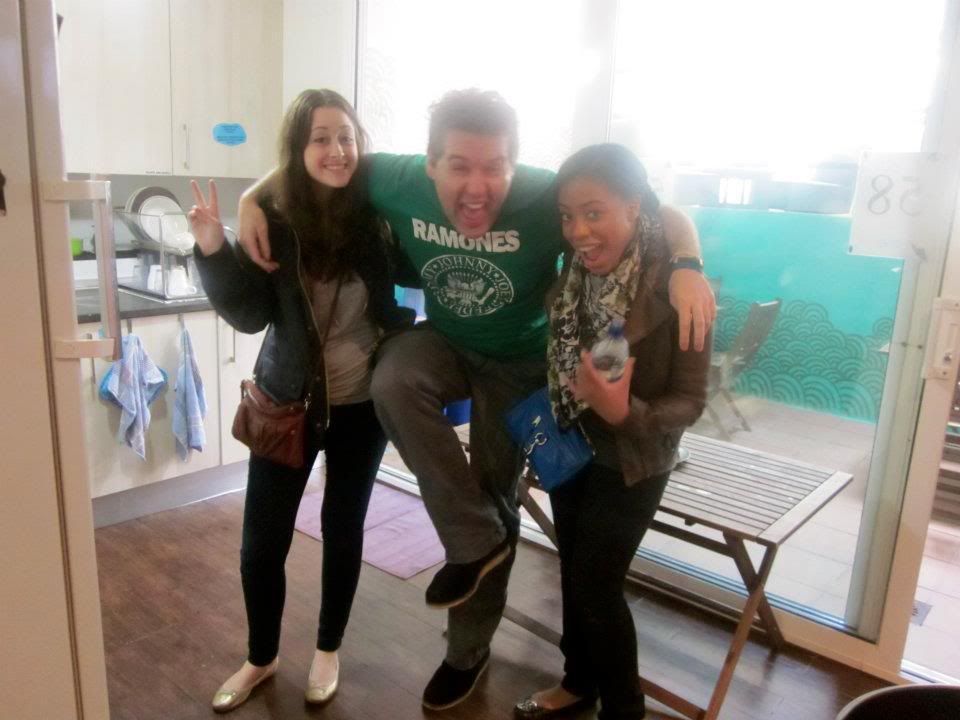 Us and Angel, lovely staff member at Hostel One Paralelo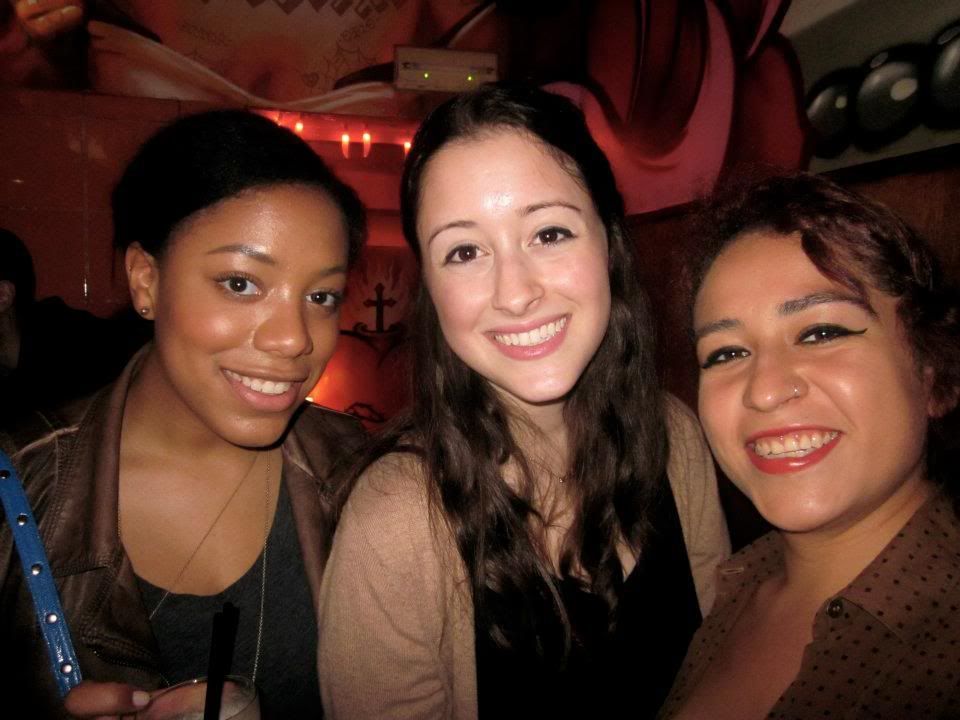 First night out with Paulina
We went out that night with some of the people we met at the hostel and a staff member who lives there and leads nightly bar crawls named Paulina. She was so funny and really friendly to go out with. One of the bars we went to was especially cool, they made these fresh daiquiris with real fruit and they were pretty affordable! I got pineapple and it was delicious. People in Barcelona did not know English for the most part, so I really got a chance to practice my Spanish both in the hostel (the staff were all bilingual, but I still practiced with them) and while in the city out and about. After hitting up a few local places, we left early and headed back to the hostel for the night. Crazy story: this one guy who was in our room was sooo strange. As we walked back from the bar crawl he kept saying odd things about how he loves daiquiris and then he started singing "My Humps" out of the blue. When we tried to re-enter the room quietly as it was late and we didn't want to wake the other guests, he kept talking loudly and fidgeting. Bizarre. Julie and I took all our stuff to get ready for bed in the bathroom and when I came back my lock that I left unlocked hanging from the locker was missing. Let's just say I was livid! We spent about 30 minutes searching endlessly for my missing lock only to find out that the guy moved my lock to a different locker. What the.......?!?!? He seemed to be a bit socially challenged and awkward and/or had OCD or something, but I was not okay with him (or anyone) touching my things. Some people.. the nerve.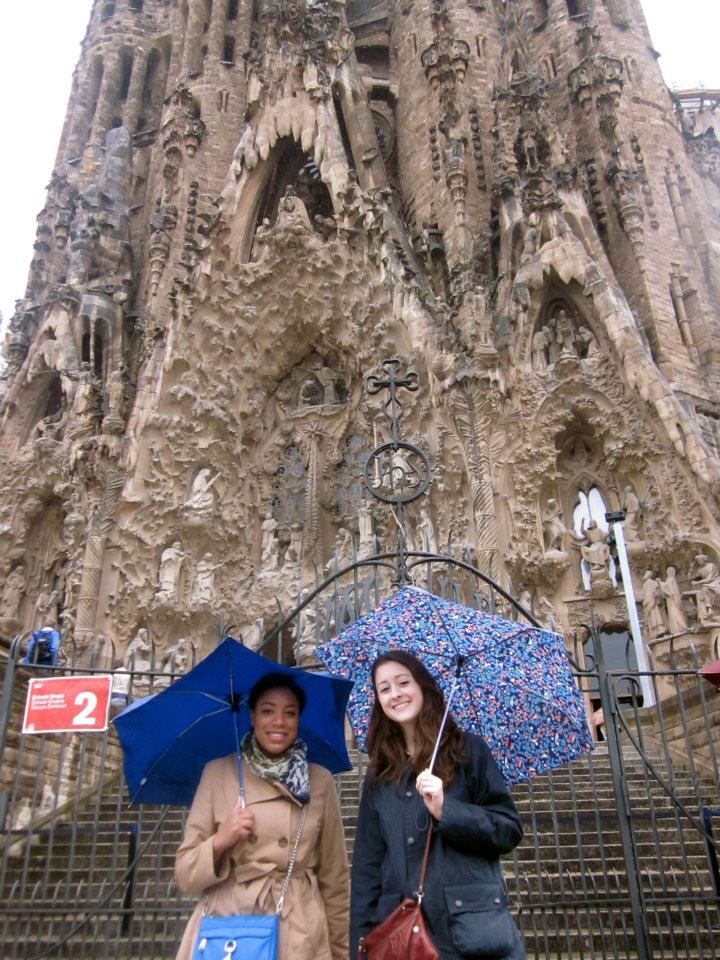 La Sagrada Familia
The next day that guy left for a different city and we were left in the room along with these really cool British guys who were traveling to Spain to BMX bike. They basically became our best friends in the hostel and we hung out with them quite a bit. Funnily enough, the one guy said the other creepy weirdo guy had moved his lock from his locker once too. We bonded over the weirdness. Julie and I went sightseeing during the day to Parc Guell and La Sagrada Familia. These two places were designed by Gaudi, a famous architect from Catalonia. We got there via metro and bus (which we figured out by me speaking in Spanish and asking for directions with random Spanish folk! #proud). While at Parc Guell Julie and I ate our new favorite snack, maiz frito (fried corn) and sangria. After that, we went to dinner at this really authentic type place not far from Las Ramblas that the hostel recommended. Once again, we had to utilize our Spanish entirely and it was pretty cool ordering authentic Spanish food. I got a tortilla, which in Spain is actually a potato omelette type thing - similar to a quiche. It wasn't bad, but nothing super delicious either. Julie got these croquetas that she didn't care for and we shared a basic salad and sangria (as one must in Spain).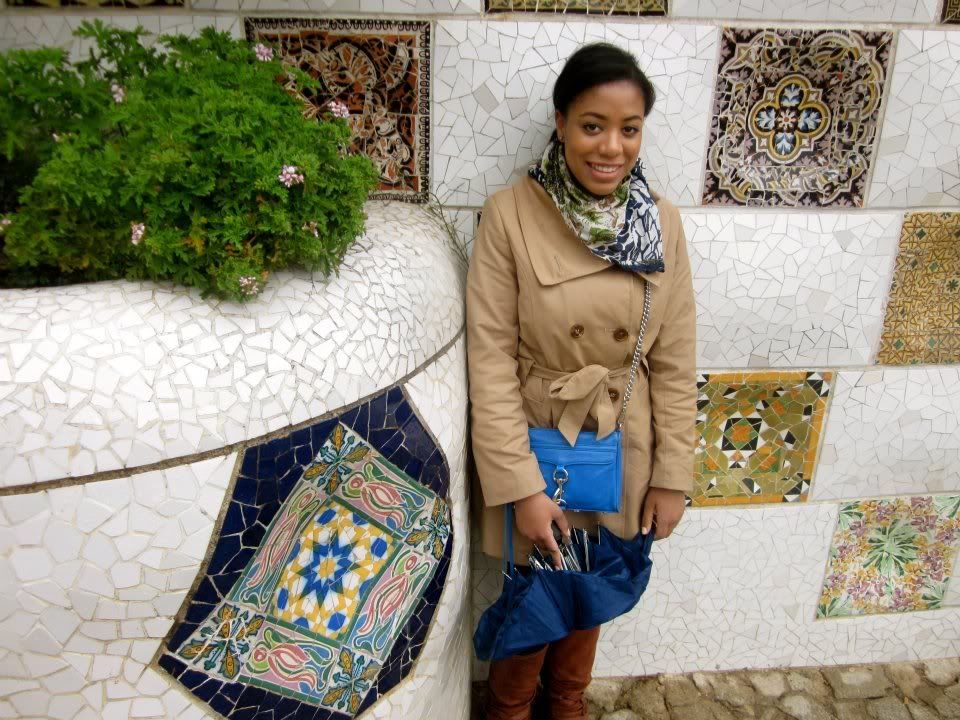 Parc Guell y yo
At Parc Guell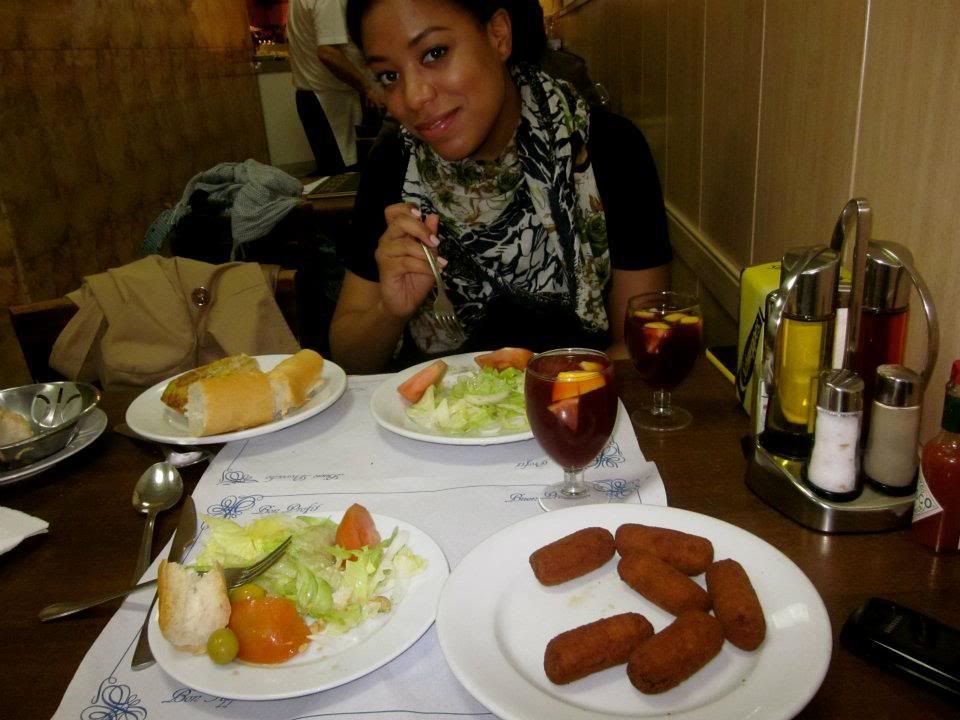 Proper Spanish meal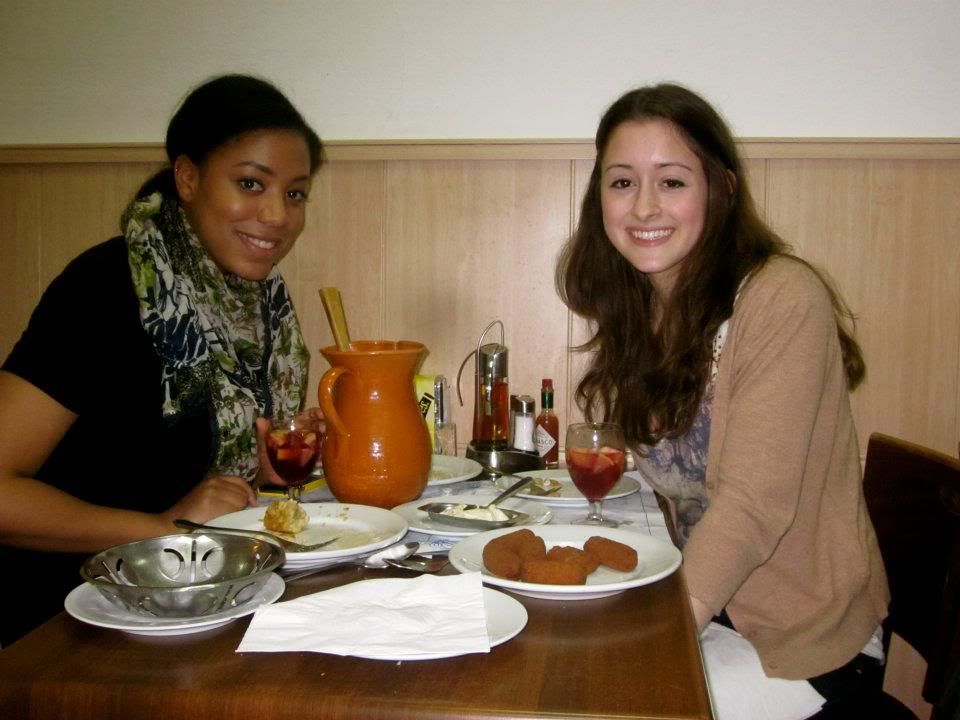 Classic
Later that day we browsed around Las Ramblas more and went into a cafe to get churros con chocolate. One regret I have about this trip to Spain is that we only got these once! They were incredible. And surprisingly, the chocolate isn't very sweet so you actually add the sugar in like you would add to a coffee or tea. The churros were also not sugary at all, just plain, so they were good and not too overwhelming to eat.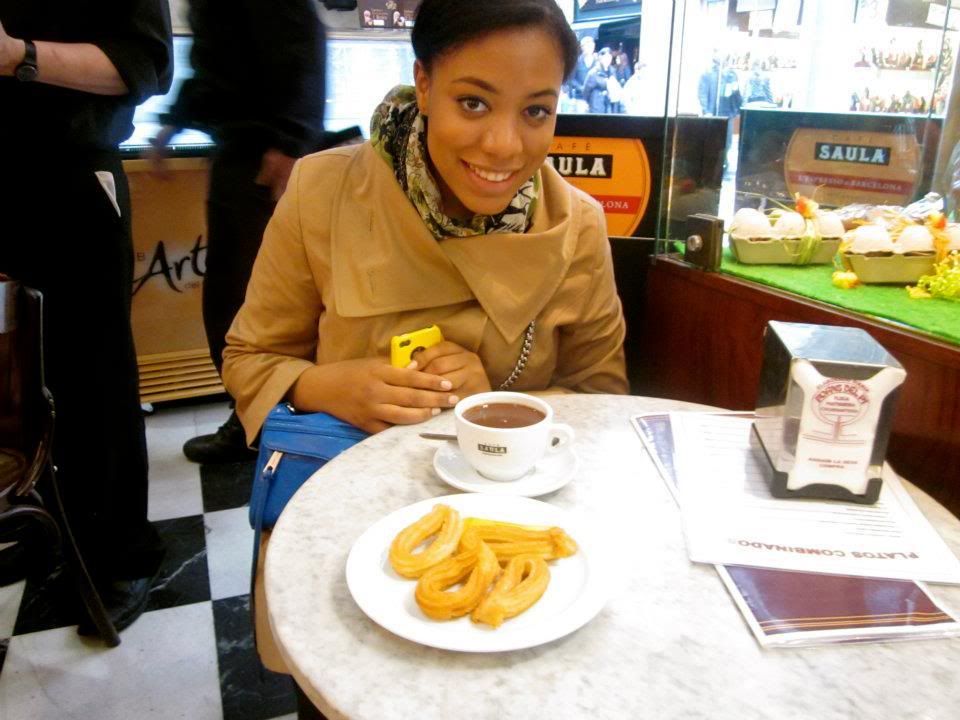 Churros con chocolate fue sabrosos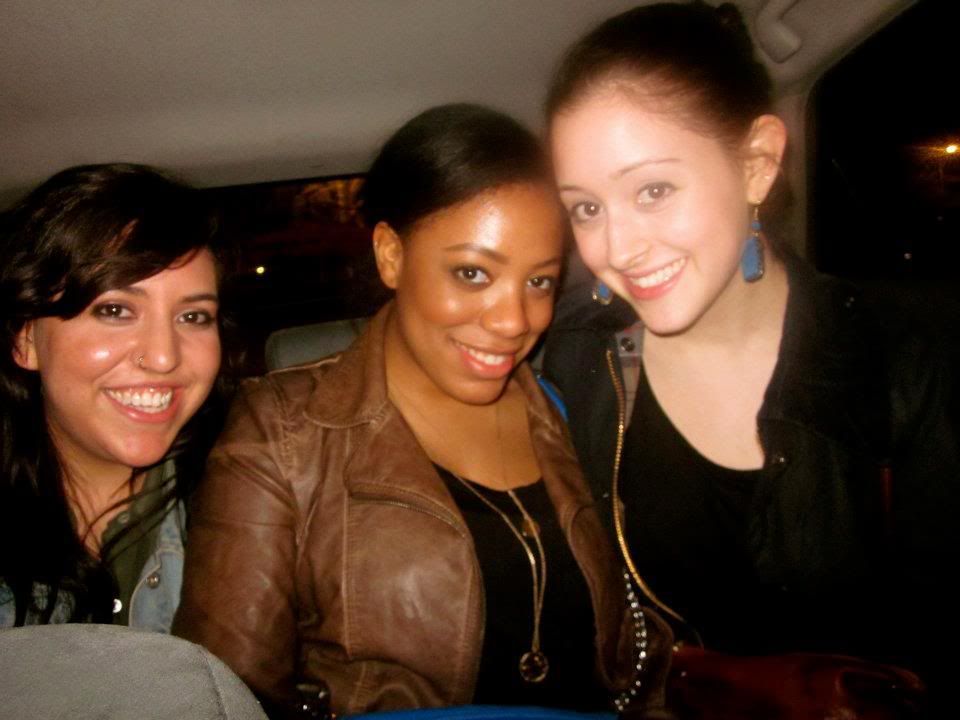 Emily, me and Julie in the cab
Later that night we met up with Tammy and Emily (girls that I know from London) for a late night dinner in the Para Lel area. We went to another Spanish restaurant and ordered tapas. I got an omelette with prawns (sidenote: omelettes are like the biggest deal ever here. They're everywhere and not just for breakfast, but more so for other meals. It's so interesting.. who knew Spain had such an affinity for omelettes?). After dinner, we went for drinks (Julie was our go-getter in finding the right place to go to nearby... direct approach) and then headed to this club on the beach called Shoko. Barcelona is known for its nightlife and there are several hotspots located all near each other along the shore. It's really cool because you can enter one place, get a stamp, and then wander around the beach at night. I hadn't been to a beach in ages and though it wasn't very warm outside, it was fun to be in the sand for a bit. We had so much fun out that night even though the actual nightclub Shoko was sort of mehhh in my opinion. We just had fun all hanging out and we met up with some people who were in Tammy and Emily's hostel. Julie and I befriended these really typical New Yorker type guys and chatted about bagels and defunct Michigan hotspots. After that night the girls and I all shared a cab and went to the McDonald's drive through (LOL x 10). I got a diet coke (or Coca Cola Light as it's called here..) that tasted a bit off and fries. Julie discovered her love for the McWrap and she mentioned it so many times after that I think she has a new favorite food.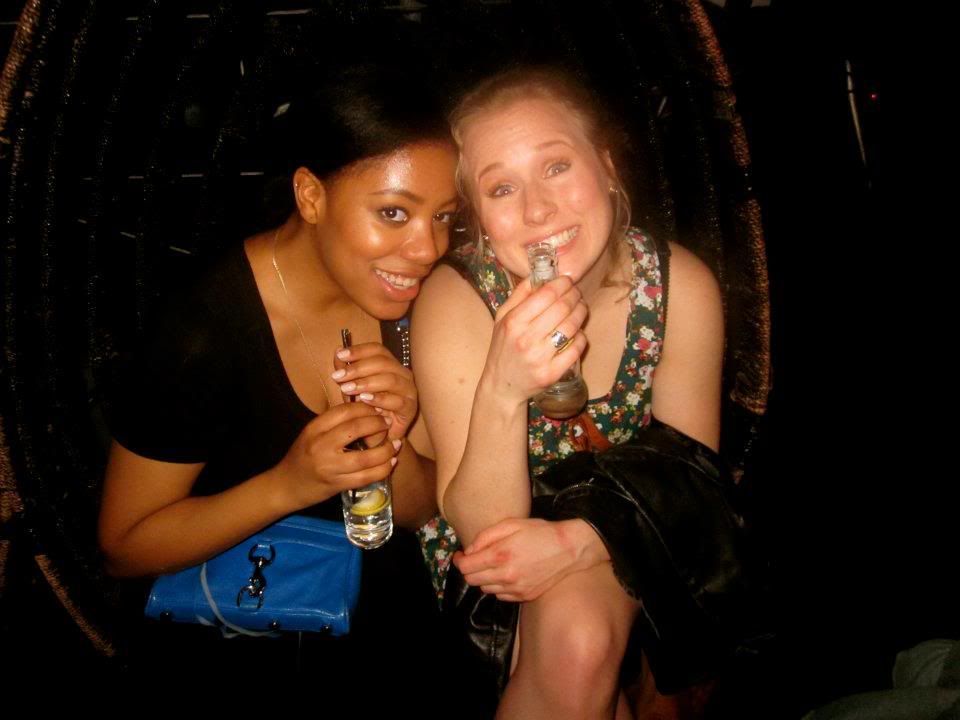 Tammy & I at Shoko on the beach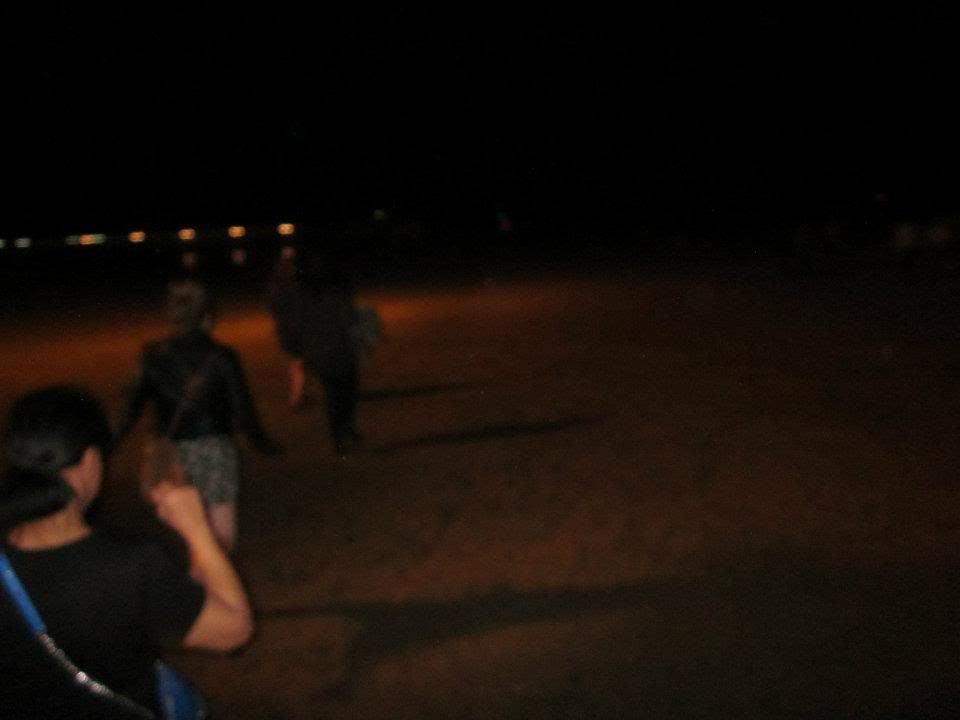 Andamos a la playa
Hola!
Looks like I'm flicking off the camera, but it's a rock on sign. I swear.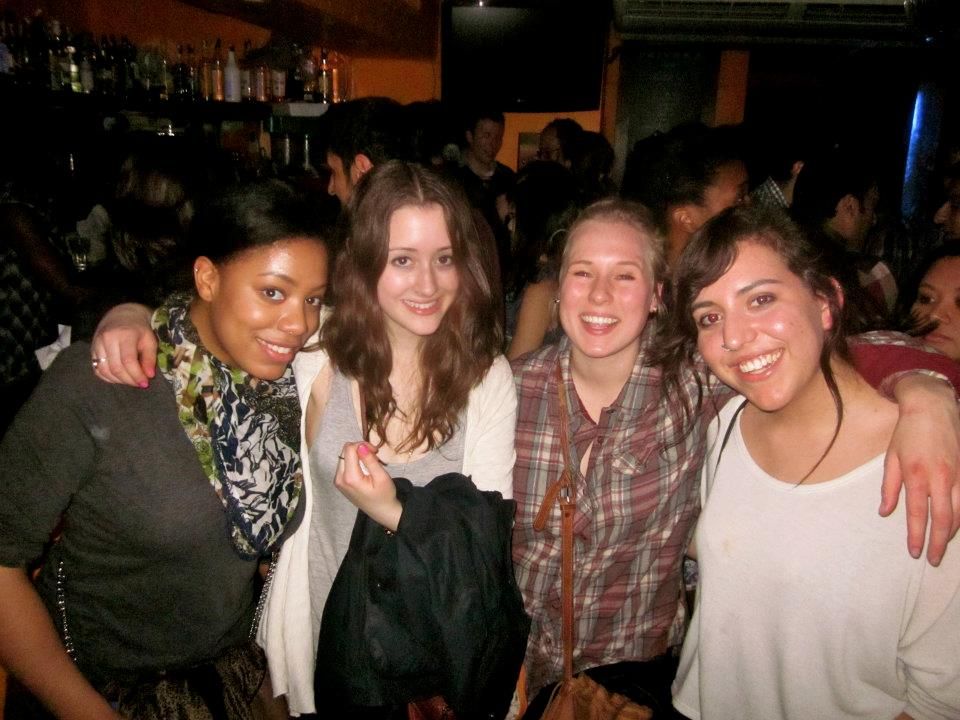 All of us
With New Yorkers who knew where to get a good bagel at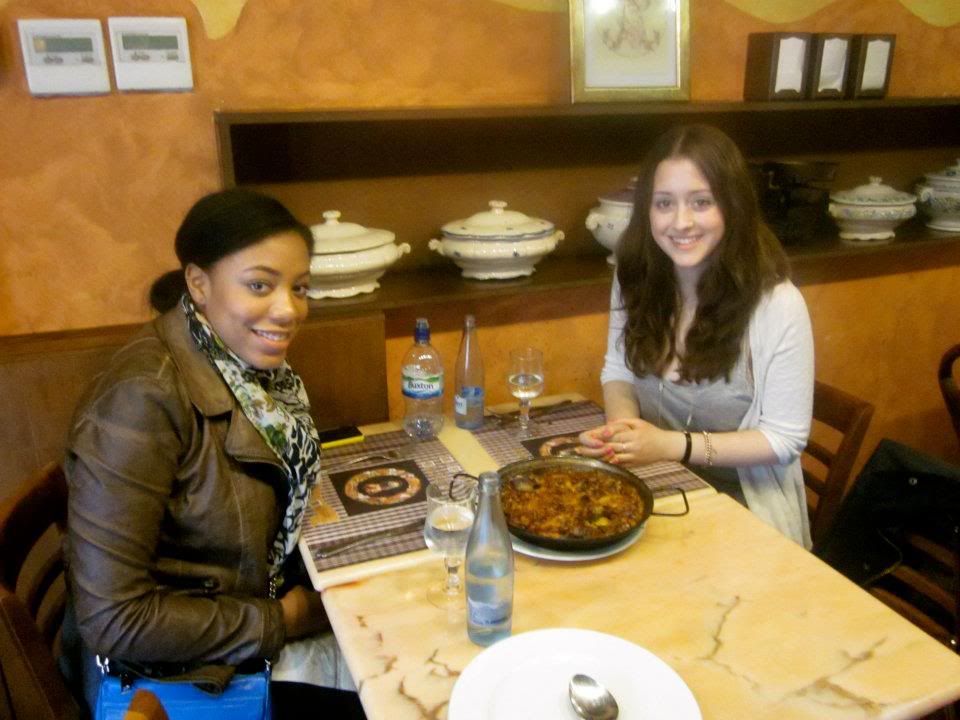 Us and our authentic as ever paella creation
The next day we went on a mission to find authentic Spanish paella. Paella is a seafood rice dish that's flavored with a sort of sauce. We found this one place and got a few tapas and shared the "fisherman's paella". The tapas were really good here I thought- we got grilled tuna and bruschetta. The paella was the most adventurous thing I've ever eaten. There were prawns/langostinos (these huge shrimps that they serve in the shell- head/antennae included), mussels (which I just started eating like the week before), octupus legs, some clam looking thing and probably more. I tried everything and it was overall good, but the way it looked it sort of a turn-off. Like, I enjoyed it and it had a nice flavor and was fresh, but looking at tentacles and eyes whilst eating isn't exactly my thing. After that we just shopped around a bit and walked around Las Ramblas. Once it got to be dinner time we were not interested in any more Spanish cuisine and instead opted for my favorite, Mexican! Mexican abroad is such a toss up. You do not know what to expect. The interpretations vary so much, and to be frank I miss traditional Mexican-American food like in the States. The rice is always weird here.. like, it's not Spanish/Mexican rice. It tends to have peas in it and then the herbs/spices that it should have, but otherwise it's basically a stir-fry rice. A bit strange. I ordered nachos which were good, but the cheese was so not traditional Mexican. It was good, but kind of heavy and not what I thought it'd be. I enjoyed the meal overall though as I love a nice plate of nachos and they're hard to mess up for the most part.
Bruschetta, anyone?
Coolest thing everrrr boy scout marshmallow toasting!
Later that night we met up with Tammy and Emily again and went out along with our British hostel mates to this famous chupitos bar. Basically, they serve these crazy cool shots (chupitos) for about 2 euros each. They're not really strong or anything for the most part, but they probably have a menu of about 200 different options and they all have cool names but don't list the ingredients. I tried one called Willy Wonka which was chocolate-y with whipped cream and M&M type candies on top and one called boy scout which came with a mini marshmallow that you light on fire (they ignite the countertop) with a stick. The place is so tiny and the guy who works there seems to really enjoy his job, which is sort of strange in that there's this one really inappropriate shot called Monica Lewinsky that we witnessed happening to a random patron. Disturbing. After that interesting experience, we went to a few other spots nearby and then to Las Ramblas to a McDonald's (LOL - I actually am not a McDonalds fan, but one of the Brits loves Big Macs and ordered one with a side of a cheeseburger. No, I'm not joking. His side was another cheeseburger).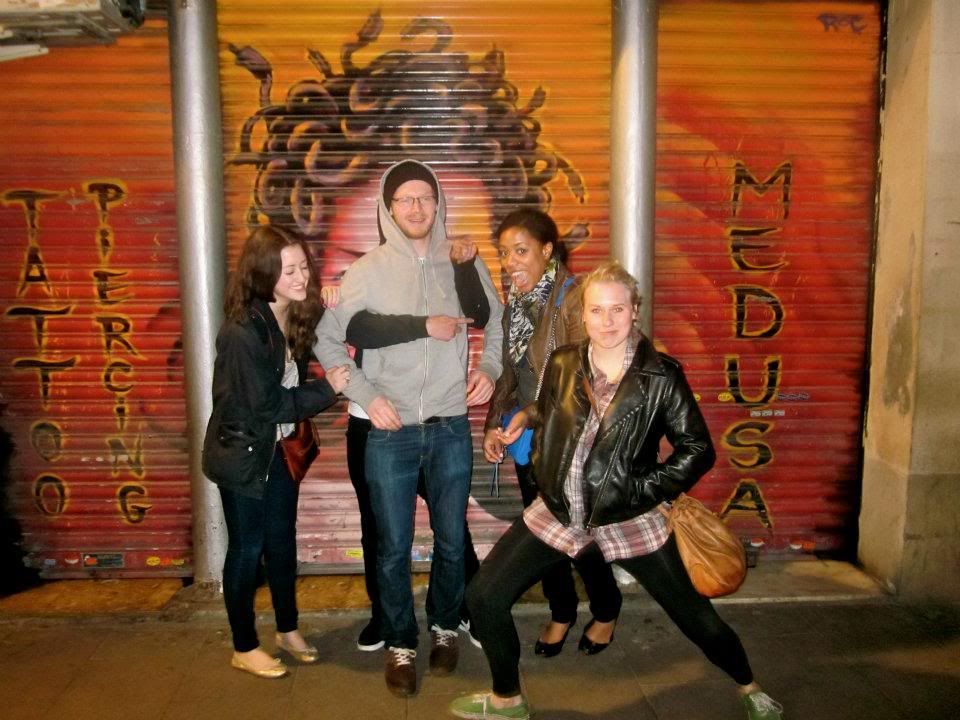 Us and the Brits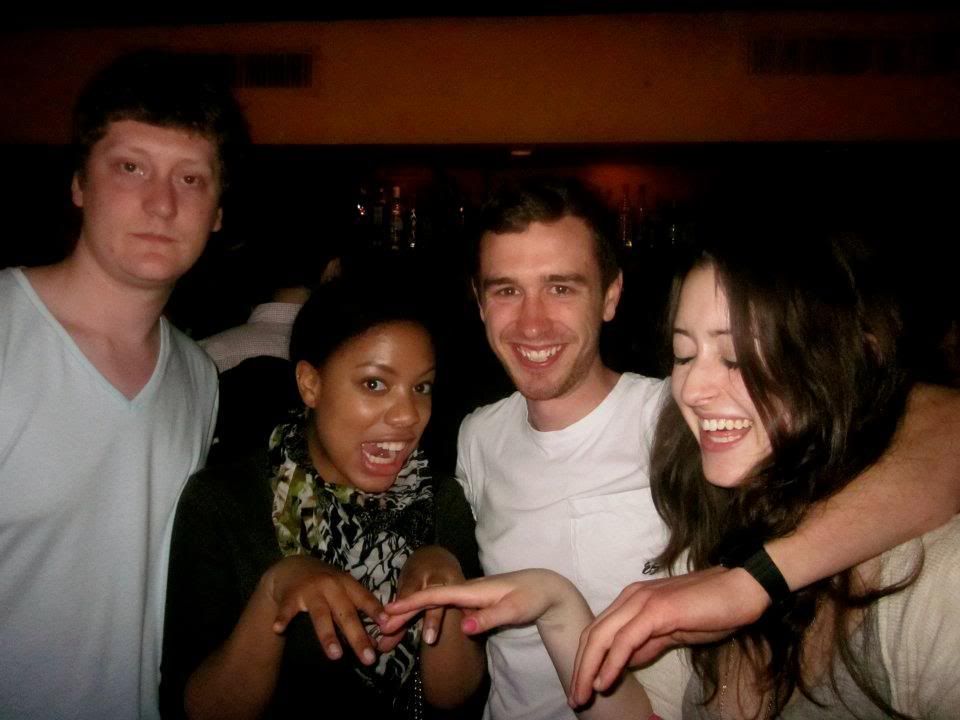 Secret handshake time
That's an interesting face
Muscle competition. I won as per usual.
At the fantastic Lateral in Madrid with Lauren, Ashley and Julie
The next day we left for Madrid via coach. The website that we booked this ticket on seemed shady as ever, but surprisingly the bus was like first class super nice. The trip is 8 hours long and Julie and I lived off of a huge bag of nuts and gummy candy from the bus station. The places it stopped for food were so weird. Like, why do random bus stations in Spain only have tapas? Can a girl get a salad or a simple sandwich? Guess not. Once we got to Madrid we checked into our hostel, which was in a lovely location off of Gran Via. The place was absolutely horrid though. I'll get into that later. After checking in we changed and met up with two girls from Julie's university in the States, Lauren and Ashley. We went to this absolutely fantastic restaurant called Lateral. It's a tapas place, but it's more gourmet and seems sort of Westernized. I got the avocado tartar with shrimp (so delicious!) and the smoked salmon with brie on bread. We waited for ages to get a table though because they wouldn't seat us unless the whole party was there (I hate when places do that). It was thankfully well worth the wait though, as it was one of my favorite meals in Spain and actually during the whole trip in continental Europe in general. After dinner we went to this really huge club called Pacha that wasn't too far away from there. It was overall an alright time, but we were all sort of tired and not feeling the whole being out all night thing, so we stayed there for awhile and then called it a night.
At Pacha
Chilling with a lemon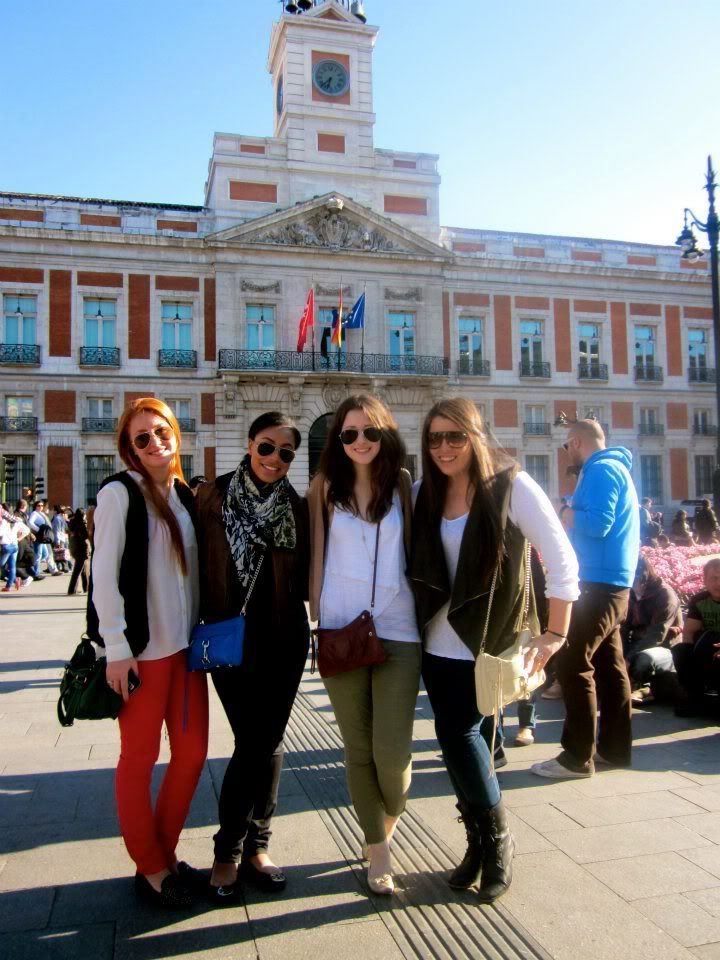 Sightseeing!
The next day, Julie and I shopped on Gran Via and the surrounding area all day and then met up with Lauren and Ashley near Plaza Mayor. We got sangria outside and just people-watched and chatted for hours as the weather was nice out. There are the strangest street performers in Europe. Very odd. Especially in that area. Later that night we went out to dinner at Lateral (again!) and they were out of the avocado tartar which was depressing, but the rest of the meal was delicious.
The next day we shopped, walked around, got street food for lunch and ordered this crazy prawn dish at a place on Plaza Mayor that we had to basically kill/prepare ourselves (lol I exaggerate, but still). Then for dinner we went to T.G.I. Friday's for dinner as we missed having American food to once again pump through our veins. It was comforting and delicious though embarrassing to say we did as I mean.. let's be honest Friday's is random/so not as cool as places in Madrid/but we loved every bit of it.
Julie y Yo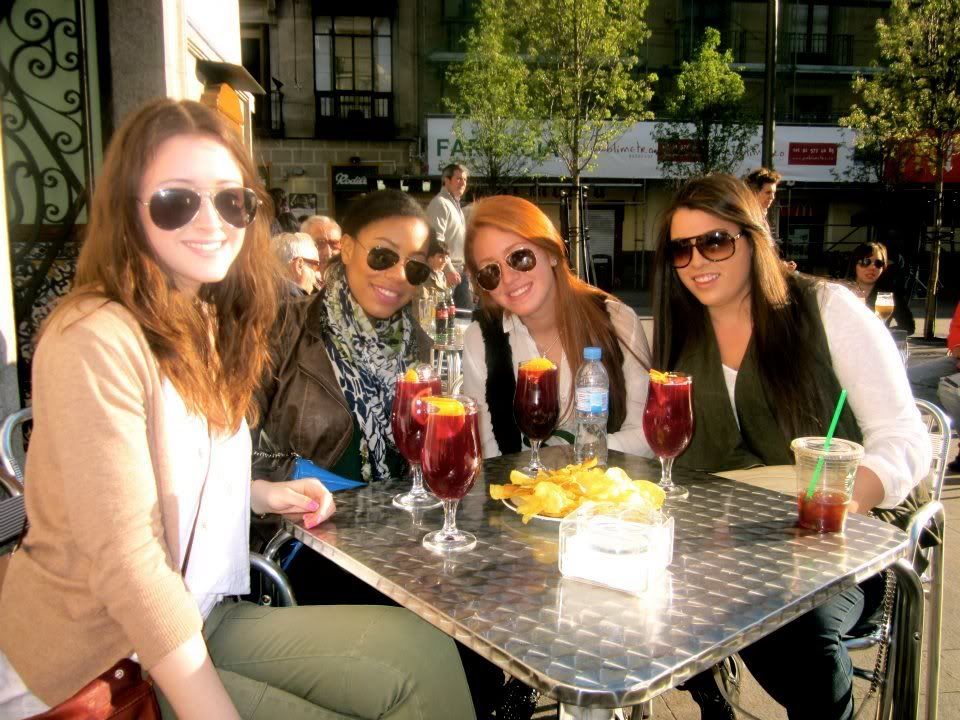 Midday talk and sangria session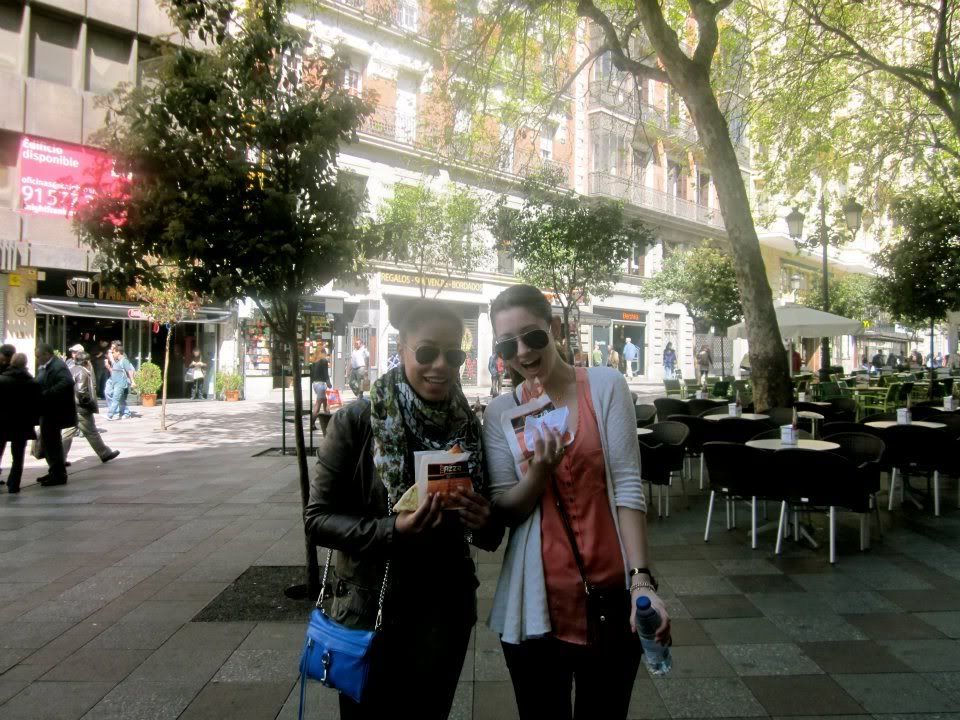 Pizza on the go
Plaza Mayor
Now about the hostel. We stayed at United World International Hostel and it was the most dreadful place I've ever had the displeasure of staying in. The room (which housed 6 people) was in addition to being tiny and cold, had the tiniest two little ceiling lights so it was hard to see anything. The bunks were frail and squeaky, the bathrooms looked poorly kept and moldy. Dreadful. Now, the icing on the cake is that we saw three roaches while there. Fun fact about me, my number one most dreaded thing on this planet is cockroaches. The first one we saw was in the main staircase on the first night. The next day when we came back from shopping we saw another, dead.
So we decided to tell the lady in charge of the hostel about the situation to see if anything could be done or if anything was being done (we had the idea to go to her after speaking with a trainee who was staying in our room). When we went to issue our complaint/concerns she looked at us with the most smug/can't be bothered/bitch-face ever. Seriously, so unprofessional. She alluded to the fact that "this is Spain.. what do you expect?" and "where are you from?" as to make it seem as though us being American has any connection to the root of the problem. Then she started talking about how she's seen roaches in NYC (duh.. how is that relevant?) and that the roaches that are in the staircase are not the responsibility of the hostel because they share the building with other establishments. Seriously? Absolutely ridiculous. At this point, Julie tells the lady about one that she saw in the bathroom of the hostel room which the lady apparently "couldn't believe to be true/possible." When I suggested that action should be taken like extermination, she claimed that they would do it the following day. Obviously this issue wasn't a new one, as she was aware of the situation before we spoke with her, so I asked her how would we know when the extermination would be completed. At which point she proceeded to say she was "offended" that I didn't believe her. Sorry lady, but you haven't seemed to be on the ball about the roach infestation before we spoke to you. The issue isn't new and it is a potential public health issue and unacceptable. The nerve of this broad.
Here's where the plot thickens: she claims it's safe for us to leave our stuff and be in the room while they fumigate, but when we went back up to the room, the exterminator guy told the trainee who was in our room that he was going to have to relocate and move his stuff as the chemicals were unsafe. Excuse my French (or should I say Spanish), but the first thought that popped into our minds is: this bitch is trying to kill us. How can she smugly lie to our faces and dare to say that we can leave our valuables and breathe in the toxic fumes of death? Absolutely unprofessional, uncouth, vile and disgusting. Needless to say we packed up our things (after shaking them out smh) and moved to a Travelodge out by the airport (Holiday Inn wanted like 400 euros for two nights - they must be joking).
Once we were safe, sound and roach-free, we were so relieved. The next day, Julie felt nauseous all day so we stayed in and I read The Hunger Games and Shopaholic & Baby all day (finished them both!). We were supposed to go to a museum, but it was nice to have a chill day in instead. Later that night we ordered a pizza (which I had to order in Spanish yet again) and Fantas. The following day we headed to the airport and flew to Paris, which I'll talk about in a different blog post. Phew! That was a lot and I haven't even talked about Paris, Amsterdam, Prague or Budapest yet. Anyway, til next time!
Here are a slew of iPhone photos from the trip also: