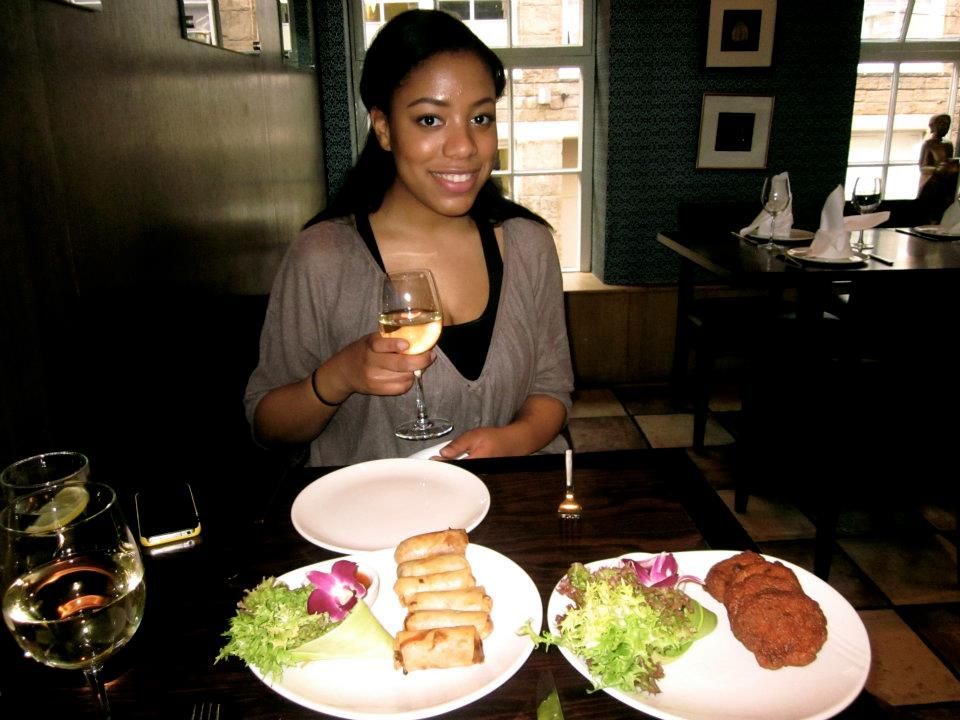 At dinner
So I've completed my last week of classes and after finishing headed out to Edinburgh in Scotland to visit Julie for several days. We basically did the following things over and over: eat, drink, sleep, watch movies. That's the gist, however; I'll go into more detail for those of you who care to know more.
I arrived in Edinburgh on the 28th of March and Julie and I ate dinner at Dusit, a fantastic Thai restaurant. We shared two appetizers and one main dish: fish cakes, spring rolls, and prawn Pad Thai. Everything was really good, but we both felt the fish cakes could've been a better texture. Overall, A+ meal. From there we went to Tiger Lily, a hotel/bar/restaurant that is decorated in the cutest color scheme and decor. It's a slick black, pink and silver theme but the pink is in small doses and thus doesn't look uber annoying or cloying as pink can tend to look IMHO. We decided to get the fondue for dinner to share (as I ordered it the waiter goes: "I'm not sure I get what you're getting at".. which was hilarious, as I was simply ordering an item off their menu but alas we got our fondue and drinks). The chocolate itself was so-so surprisingly, but the items that you dip were all yummy. Their signature cocktail was absolutely vile though. It tasted like cherry cough syrup and had egg whites in it- which we didn't notice until later. We sent them back and got a bramble and a bellini, respectively.
Dinner
Yum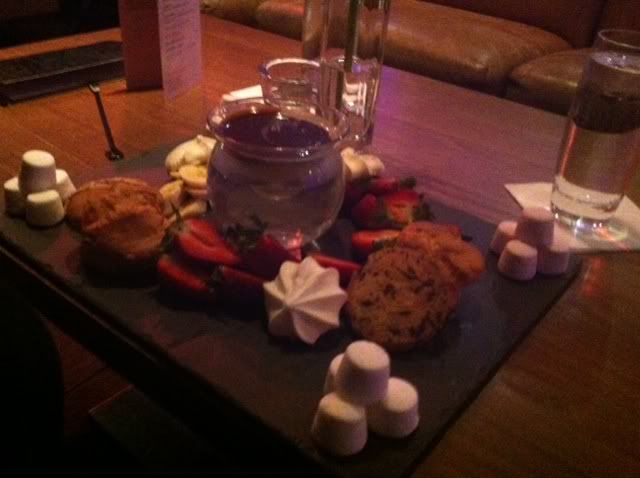 Fondue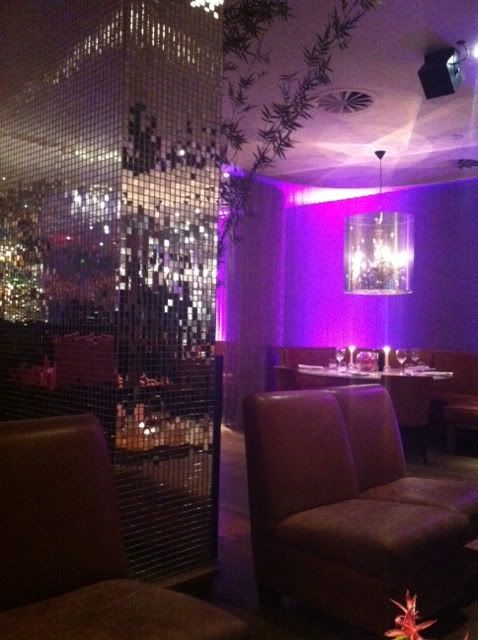 Tiger Lily decor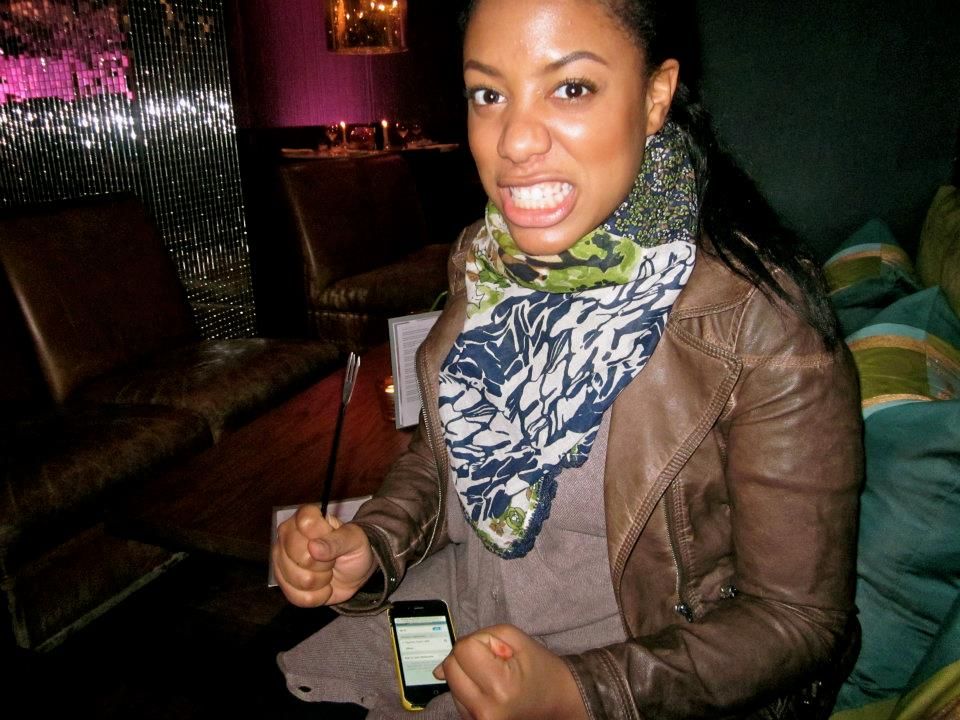 Want fondue now!
Men's room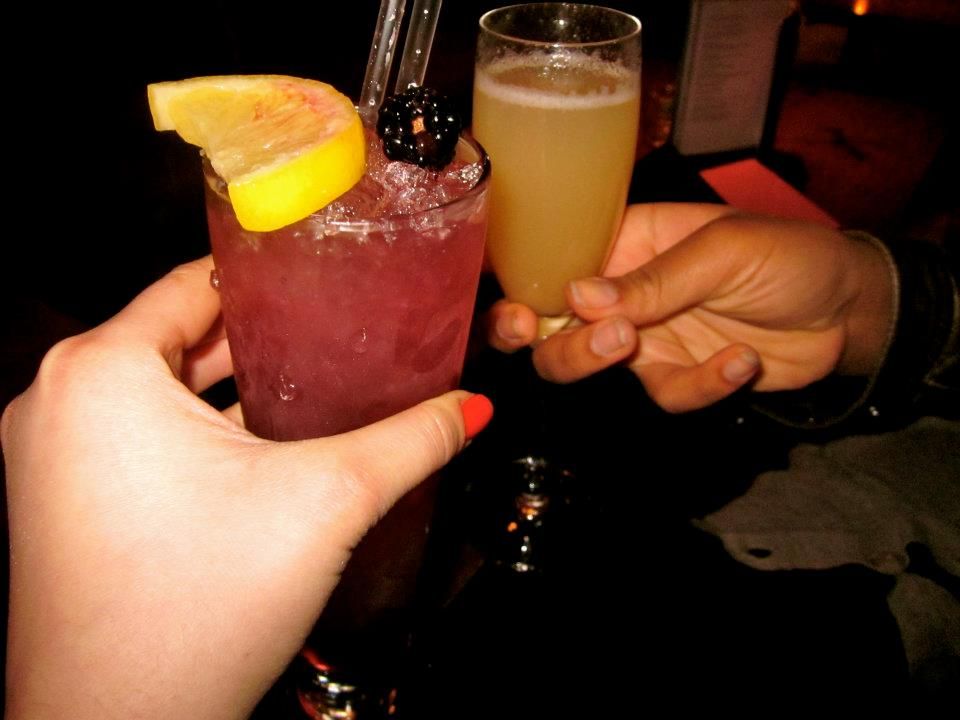 Cheers to 21!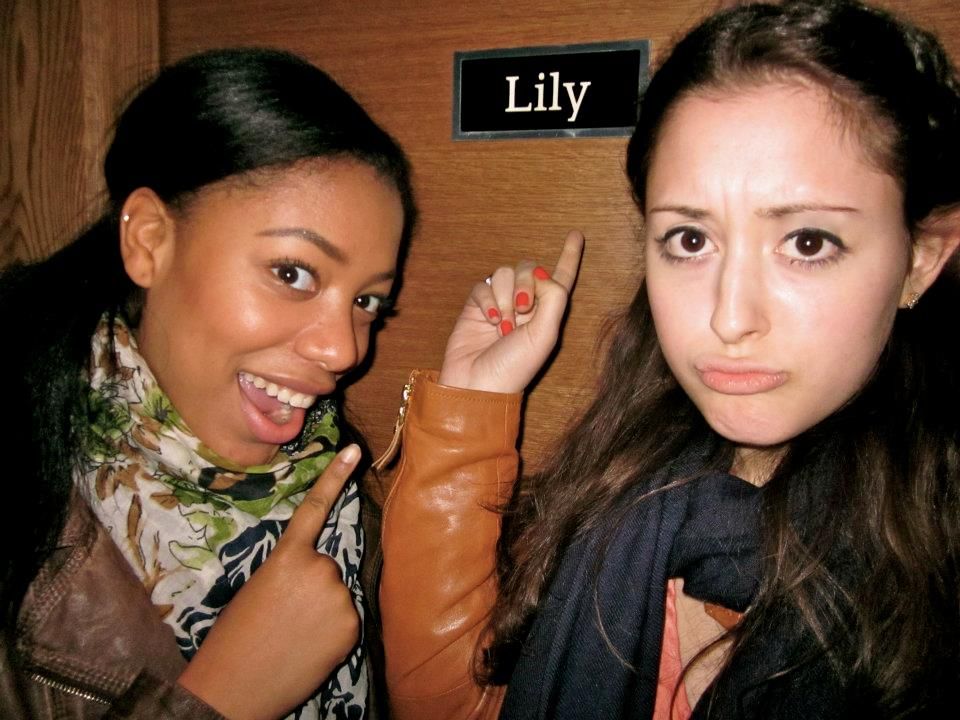 Girl's room
21!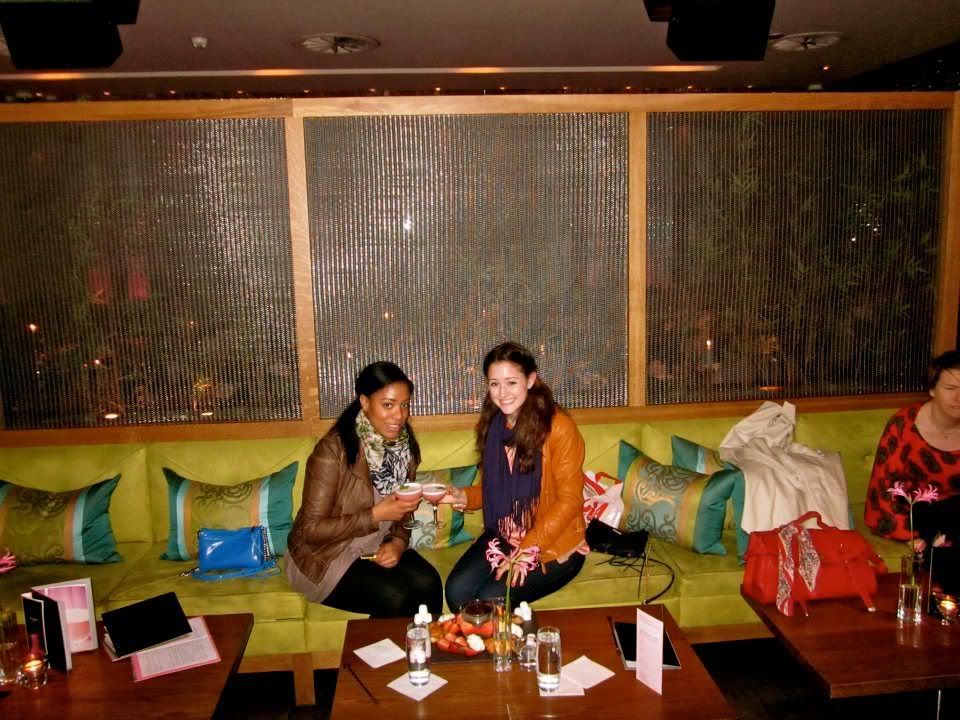 Tiger Lily, loungin'
After that we headed out to some pubs just to check out the scene.We saw a bit of live music and met some odd characters. Julie lied to a creepy guy who wanted to have her drink his drink by sarcastically saying she "was an alcoholic and couldn't drink." 'Twas funny. From there we just called it a night.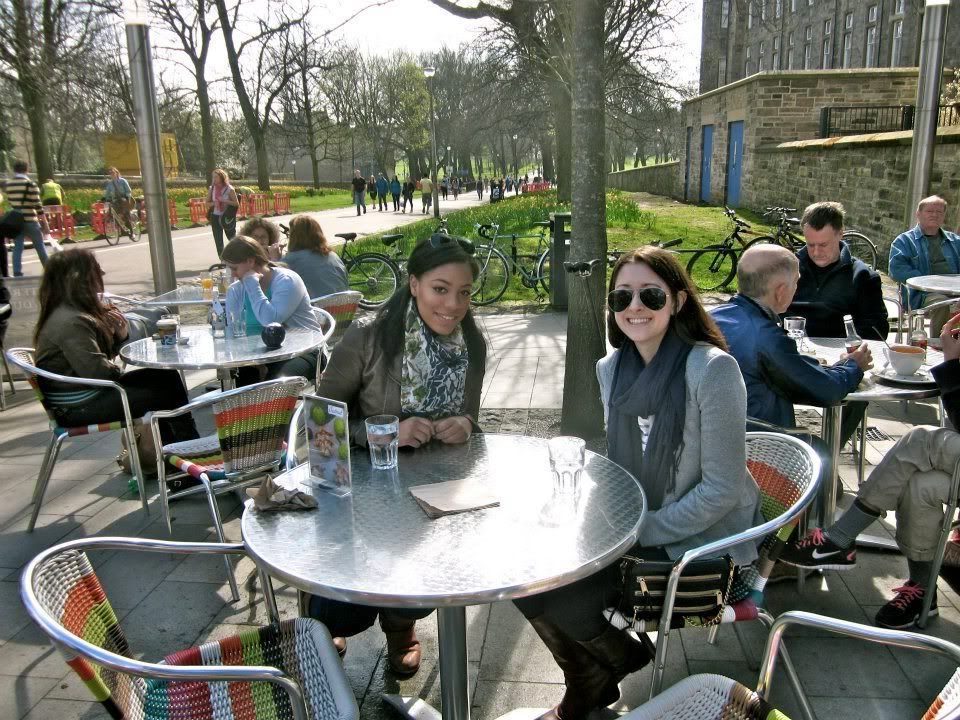 Peter's Yard
The next day we got lunch at Peter's Yard, this really cool fresh deli type place. It reminds me of Huckleberry in Santa Monica or Joan's on Third Street in LA. I got a salad that had quinoa, butternut squash, feta, spinach and more in it with bread and butter. Was fantastic and really nice and fresh. After that we headed back over to our new hangout spot, Tiger Lily, for afternoon tea. We thought it was a nice tea for the price, but we found the batter of a lot of the breaded items a bit dry. The highlight of the meal was the frosting on the cupcakes! It tasted like fruit sorbet and wasn't too thick or artificial tasting. Our waitress was from Canada, which was cool. You begin to sort of notice non-British accents more, though sometimes it's sort of hard to realize what it is you're noticing about that person that's different (if that makes sense). Like, I feel like I sort of feel that American accent holding folk seem more friendly and familiar but I think it's just due to being around Americans most of the time in my life.
J.K. Rowling wrote Harry Potter here
Tea delicacies
He want dat cake
Missoni!
Anyway, after that we went to Hotel Missoni which is basically a beautiful boutique hotel that is owned by the Missoni fashion house. The couches and wallpaper and all the decor is Missoni patterned and the walls are adorned with TVs that stream the fashion shows from past collections. We ordered the same drink, a spin on a Cosmopolitan that was blood orange flavored - it was fabulous! In addition to the lovely drinks, I also coerced Julie into doing something she was once so adamantly against. I made her try mixed nuts. Julie's mom, if you're reading this: SHE LOVED THEM. Yes, Miss Picky-Eater-of-the-Year Julie enjoyed the nuts and in fact she and I finished the entire little dish of them. I thought I was dreaming. Years of hearing complaints stemming from her so-called, perceived dislike for the harmless snacks finally culminated in her actually devouring the jar. It was legendary.
After that we went to dinner and decided to go to a sushi place that she and Serra had been to before called Kanpai. It was sooo good! We got the salmon maki roll, the dragon roll and the soft shell crab roll. Flawless sushi and I liked the way the served each roll separately. Was so amazing!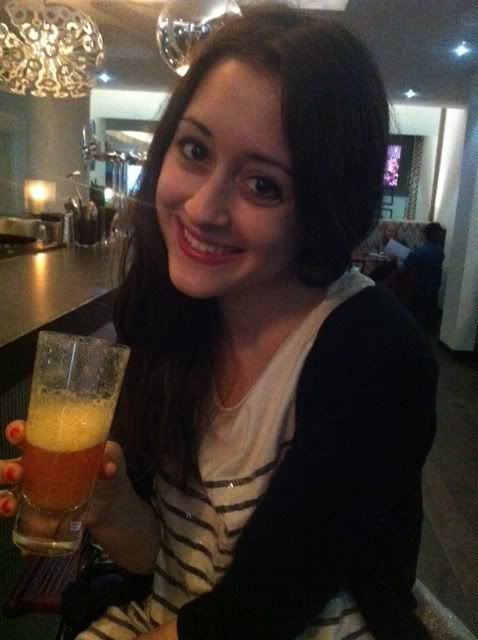 Again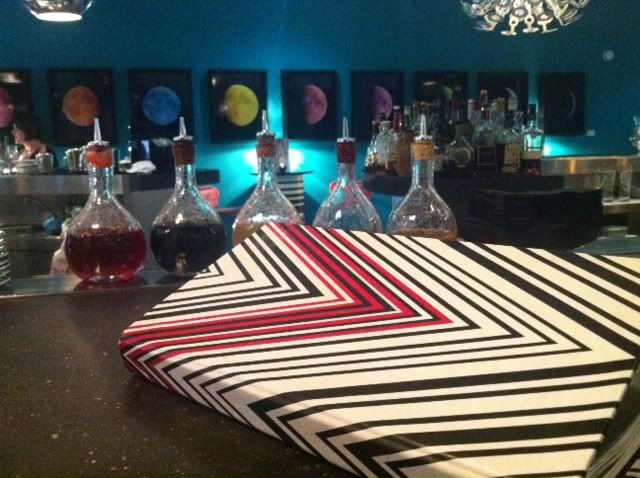 Cool patterns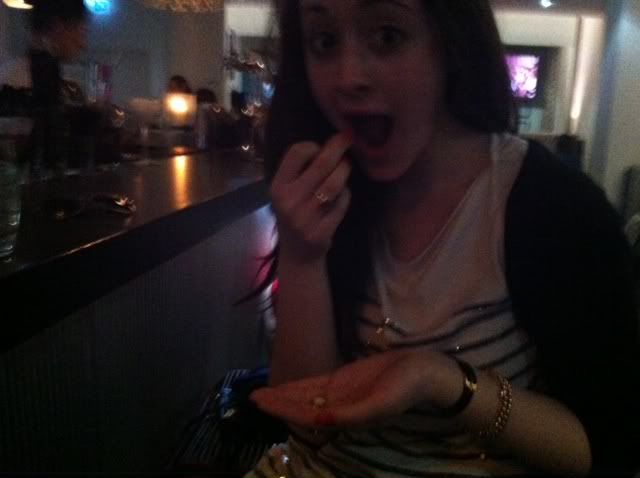 Spotted: with nuts in hand.
Salmon maki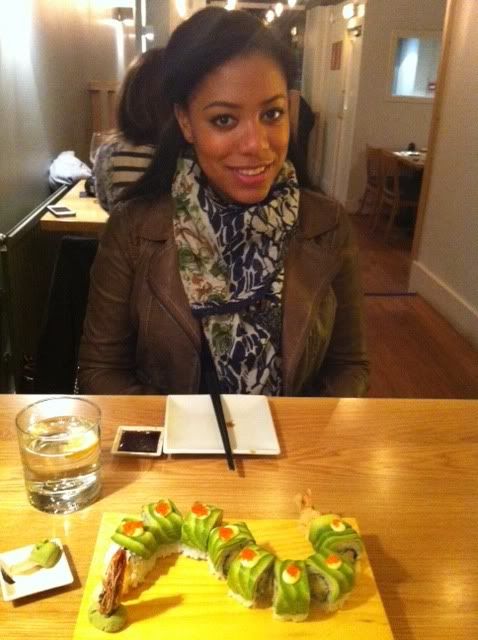 With dragon
Classic at tea shot
Loch Ness rawrrr
The next morning we woke up bright and early to go to a day bus tour of Glen Coe, Loch Ness and the Scottish Highlands. We woke up and got snacks from Starbucks and then headed to the bus. The first stop was a small town called Pitlochry. Once we got there we got hot chocolates as it was absolutely freezing that morning. After a bit more driving, we ended up (after napping) at Loch Ness. Loch means 'lake' FYI. Loch Ness is where the Loch Ness monster is supposedly from, FYI x2. We got some pics there and then the bus drove more to a different town (Inverness) that was also near the lake. The lake is gigantic and apparently super deep. It's one of those lakes that basically looks like an ocean that seemingly never ends. After a bit more driving, we got lunch at The Boathouse Restaurant & Bar. Food was mehhh/aight but we had really nice views of the lake. I got haddock with chips, but the chips weren't very good so I basically just had the haddock which was really nice and fresh. After that stop, the bus drove for another while and we ended up at a gift shop near Ben Nevis (the highest mountain in the UK). We played with random gift things and then boarded the bus yet again. The bus then drove for a few more hours (I think?) to Glen Coe which is these three mountain-type peaks. After that, the bus headed back to Edinburgh and we were tired and ready for dinner.
At lunch
Do you see the monster?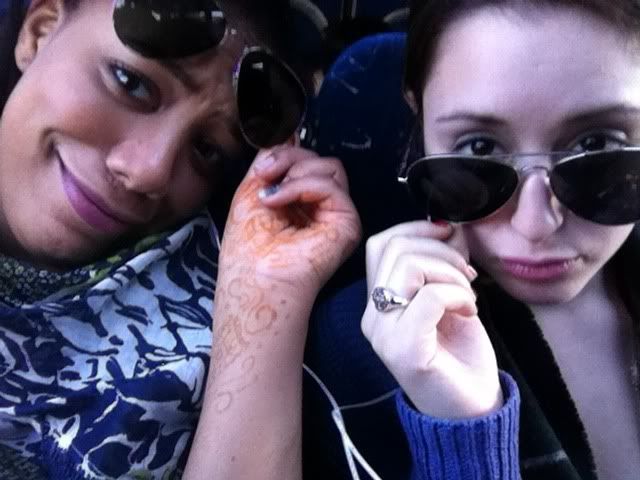 Bus boredom
Indeed
Coy Ness
So outdoorsy
At lunch
Alan, our guide, being stoic
Rawk Out!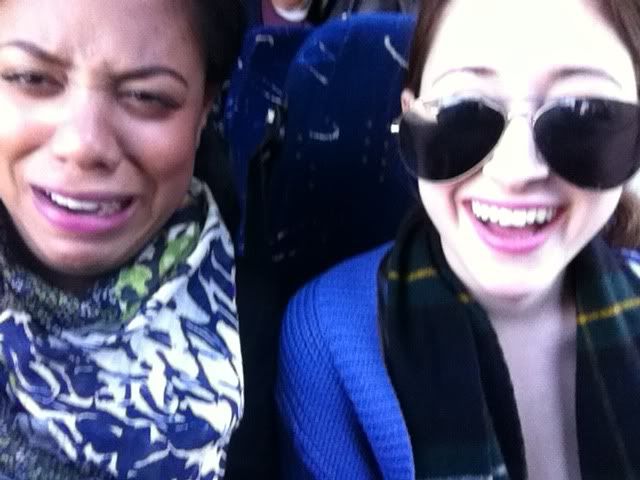 Or not
Pshh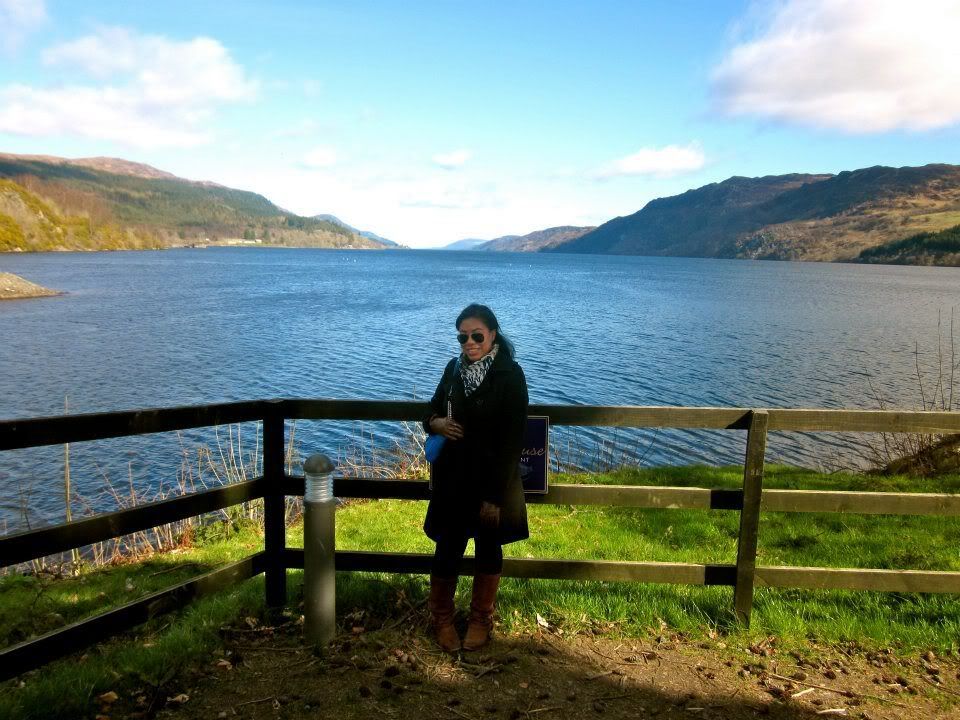 Lake shot
We decided to eat at a small Italian place called Gennaro on a whim and got mussels (my first time trying them - I like! Reminded me of shrimp scampi, but weirder looking), margherita pizza, and salads. That night we stayed in and watched movies, which was tons of fun as per usual.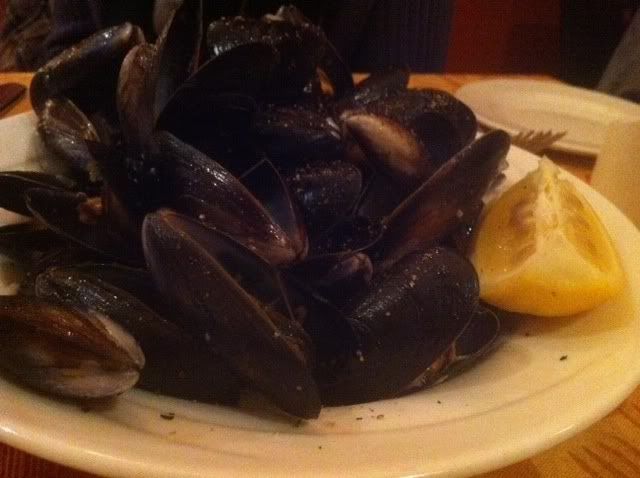 Mussels in white wine sauce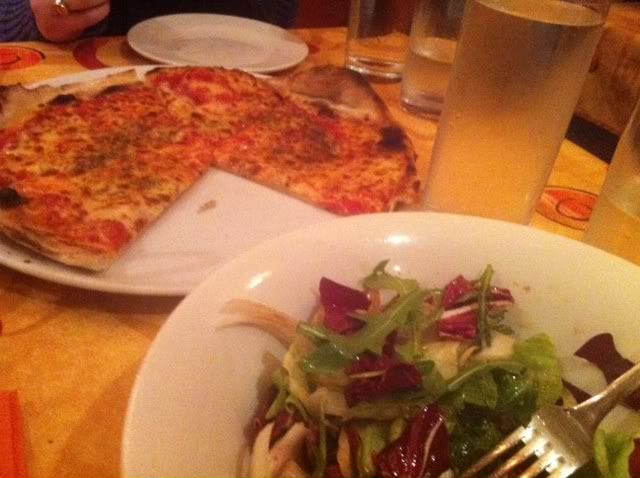 So good mate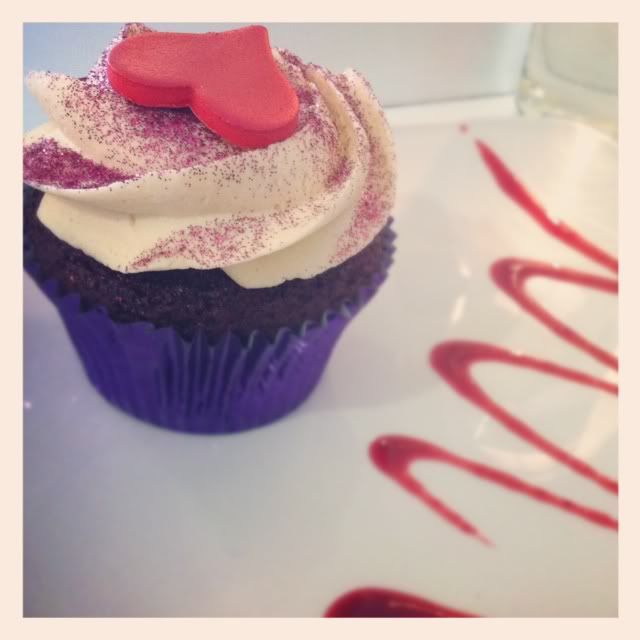 Beauty in a bite
The next day we shopped around Prince Street. Hopped into Debenhams, Primark, Boots, and I think H&M etc. The Primark there is the most stressful thing in the world. It's just too big, too many people, too much loitering about, I can't handle that congested atmosphere. I got a cute toiletry bag for 2 quid though so that was nice! After that we went to Harvey Nichols to the chocolate bar! I had one of the best red velvet cupcakes ever that was adorned with edible glitter! So absolutely beautiful. They even served it up with raspberry sauce on the plate which I think it the best thing ever. After eating we browsed around the shop a bit and saw interesting and some weird food items, clothing, mannequins, and trinkets.
For dinner we went to Tex Mex II, a Mexican place not far from the Thai place we went to a few days before. We shared guacamole and a strawberry-mango margarita half pitcher. Then for my entree I ordered the enchilada with prawns while Julie got the taco salad. Our food was really good! Def Tex-Mex more than anything, but good.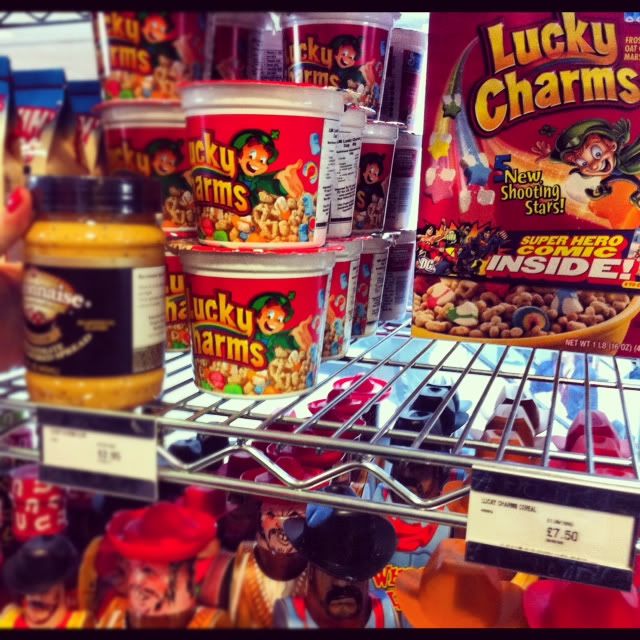 $12 for Lucky Charms. SMH.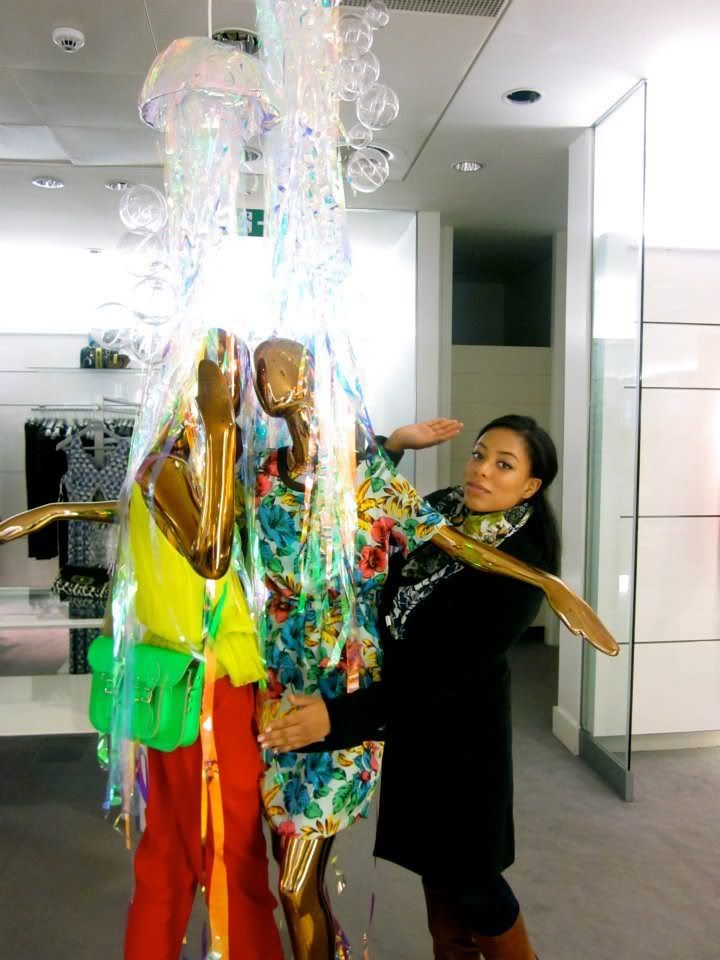 Yes, darling. It's all the rage to stand like so under streamers.
Glittery shortbread masterpiece
Yup!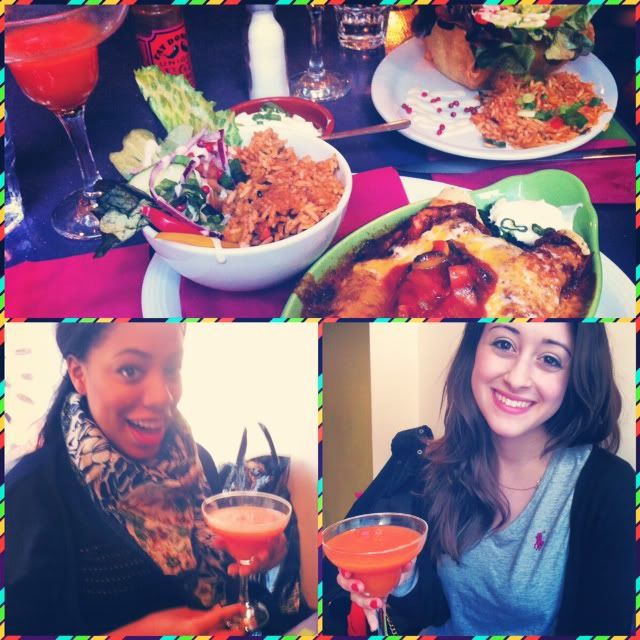 Ay ay ay~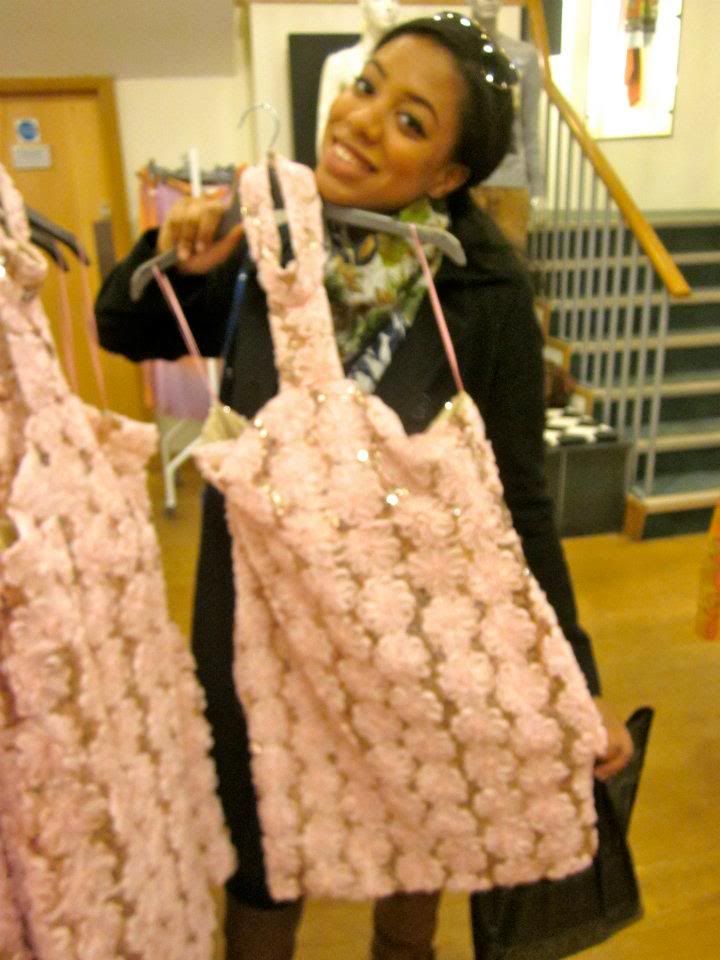 Tho beathifulll lolz - this dress is... odd.
Later that night we hung out with her flatmates and some other students in her building and went to this guy's birthday party thing. We didn't end up going out anywhere afterwards, but we had fun hanging out there. I met some Canadian girls who go to university with Liberty from Degrassi (lol forever).
With Julie's flatmate and friend
Come again?
The next day we were *supposed* to go to Glasgow for a day trip, but when we both woke up we were tired and lazy. I wasn't dying to go there, and it was £10 to go (and an hour away) just to browse the same shops that you find anywhere in the UK, so I wasn't that upset when we decided not to go or anything. We ended up eating at a Lebanese place for lunch called Beirut Palace or something to that effect and got falafel sandwiches and fresh lemonade. The lemonade was fantastic! In the UK, lemonade is equivalent to Sprite/Sierra Mist/7 Up, while what they call cloudy lemonade is more similar to American lemonade. It was nice to get fresh lemonade as I hadn't had it in ages! After lunch we headed back to her flat and spent the day watching movies and just taking it easy. We ordered Chinese takeout for dinner and called it a night!
Mhhmm good!
The next day I slept in a bit longer as Julie had class in the AM and then when she came back we went to lunch at Victor Hugo (a deli) before headed over to Peter's Yard for a coffee and snack for the plane (that I consequently dropped on the street after only having two bites of it.. my luck indeed). I then headed back to the airport to fly back to London!
Once I got back to London I had a bit of a journey from the airport to my flat and once I finally made it back home my door was oddly jammed and my key wouldn't let me in. It was so weird and I was confused and tired and had to wait for them to come and try to fix my door. Let's hope it doesn't continue to give me problems, as that's not really ideal. Anyway, that's it for now! I have to spend all of Tuesday packing before I head out again on Wednesday for Barcelona, Madrid, Paris, Amsterdam, Prague and Budapest! Whew! Cheers x.
Quick video we filmed from our tour bus: