#St. Patty's Day don't curr
This past week has been one of the most busiest weeks ever. I had three papers to finish all before Friday the 16th so I basically was up til wee hours of the night each day finishing the assignments. Two of the papers were due on Monday (today) but because I was gone all weekend I had to finish them faster than anticipated. Thankfully, I finished everything and Saturday morning (after not sleeping..) we all headed to the airport and went to Dublin, Ireland to celebrate St. Patrick's Day. We arrived the morning of the holiday and I ended up meeting Julie, Serra and Paige at the airport when their plane from Edinburgh came in. The airport was decked out in balloons and had a band playing Irish music and tons of people dressed in green.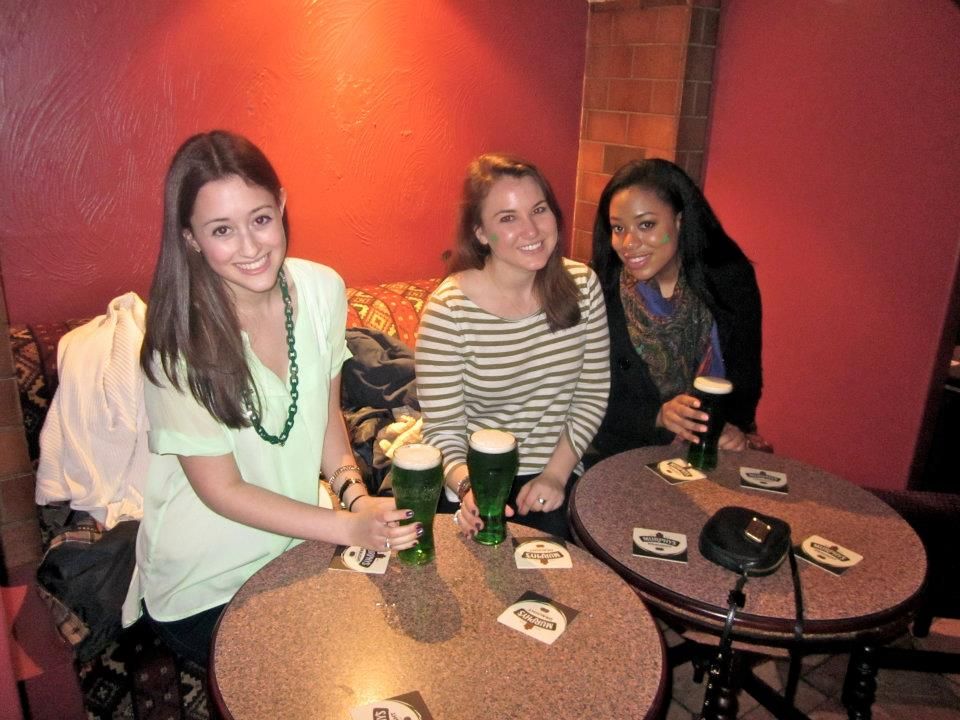 Green beer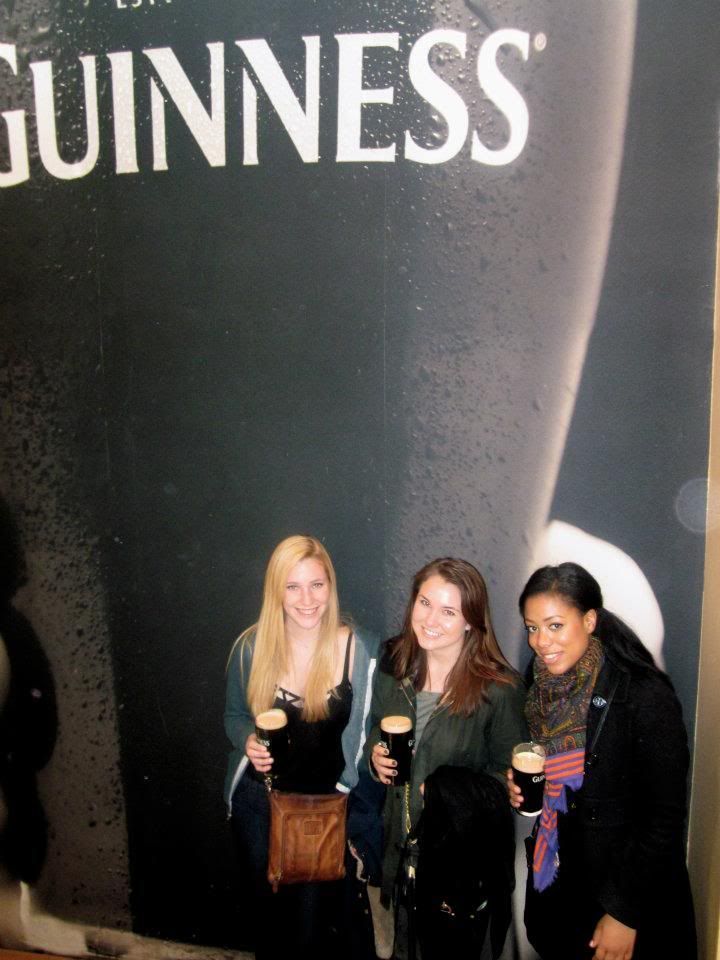 At Guinness factory
Once everyone was in Dublin, we went to our hotel, the infamous Travelodge in Swords. We booked our reservation and flight to Dublin back in January but even then practically every hostel in Dublin was booked on the night of St. Patrick's Day. So we stayed at the Travelodge out in Swords near the airport. Thankfully, the place was actually not half bad! There was a double sized bed, a couch bed, and a trundle bed. The four of us were each able to sleep comfortably and it was not nearly as cramped as we thought it would be! After dropping our bags off we headed to the City Centre on an extremely packed bus that costs 2.65 euros and and doesn't make change (if you give them 3 euros you just lose the difference). After we got to central Dublin, we walked off the bus and all of a sudden it started pouring rain. Literally, the moment our feet got onto the pavement from the bus it rained. Perfect timing at its finest! We walked towards the parade with our coats and scarves over our heads like baboushkas and saw the parade floats and performers for a bit. Thankfully it stopped raining after like 15 minutes so none of our photos are of us looking miserable and wet.
On the plane!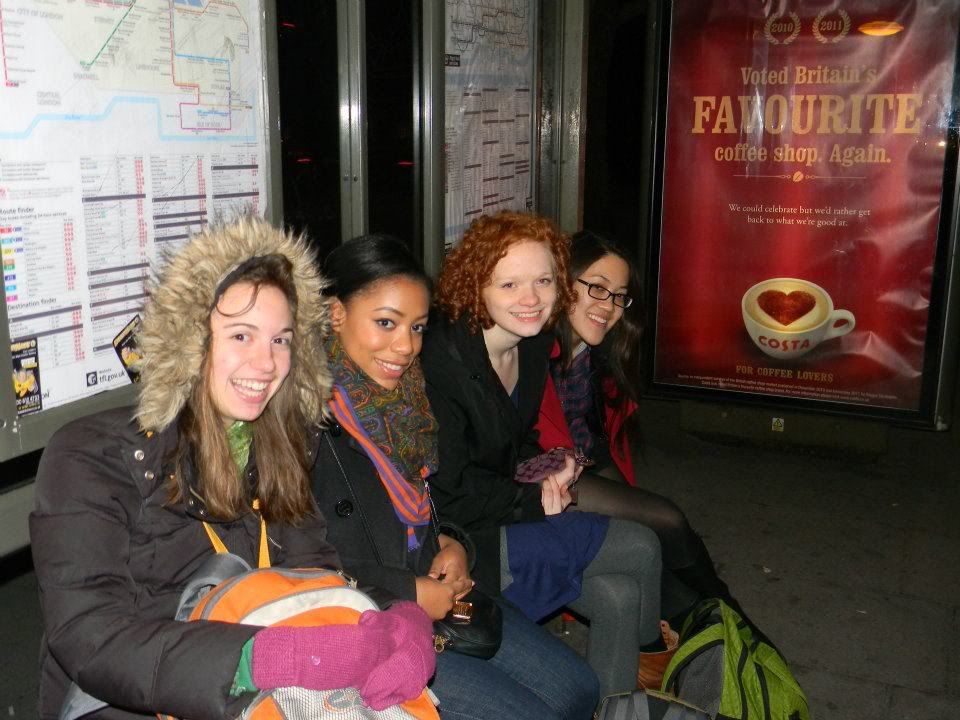 Before heading to the airport in the wee hours of the night!
In front of the bridge in Dublin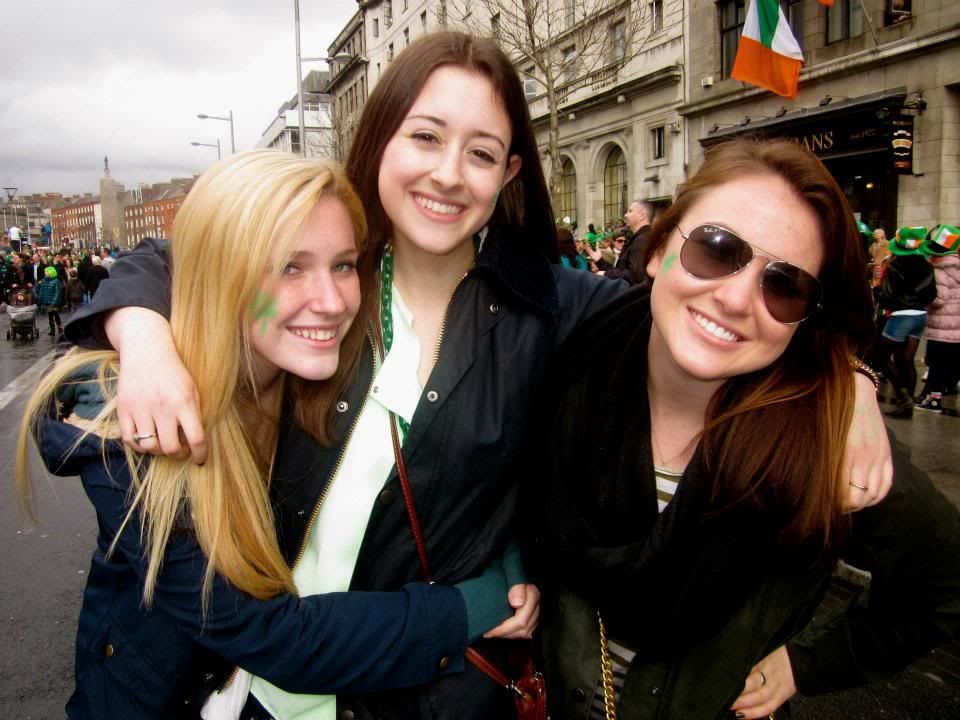 In the streets
Matching designs
Who knew Guinness was so deep?
At 'da Travelodge
At this awesome brewery pub place- strawberry/raspberry beers!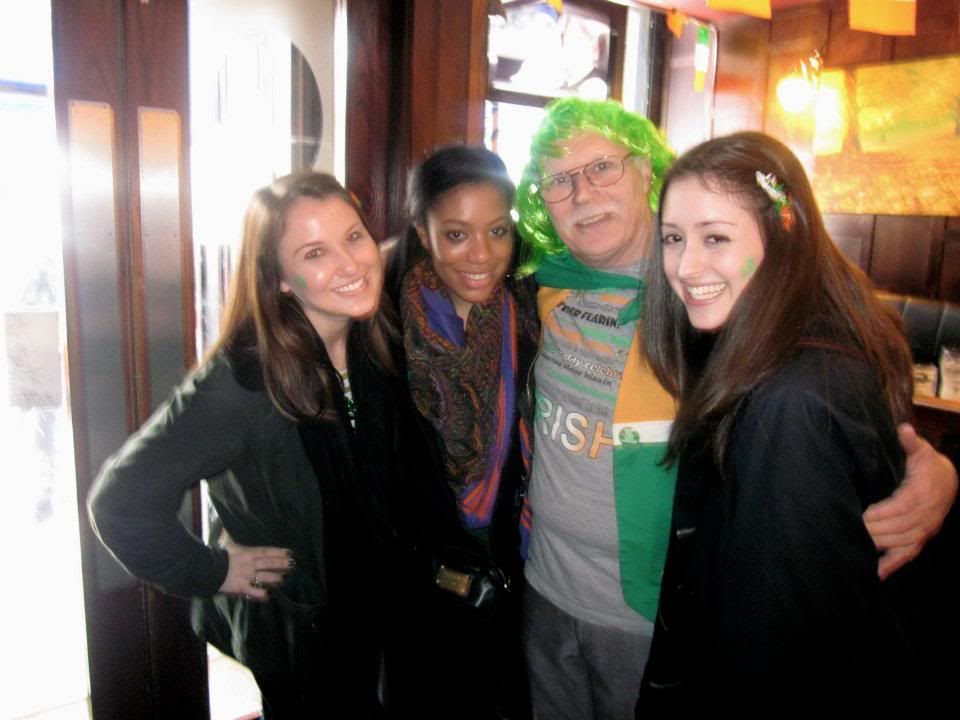 This gentlemen was quite the character
I'm Possible
We walked around the city for a bit (seriously, the crowds were massive; you could barely walk on the streets) and decided to stop at a pub. We got festive green colored beer and ended up hanging out there for awhile as we were all really tired. After that place we walked around the city and ventured a bit and basically pub-hopped. We saw a lot of live Irish music bands (typically older men were in these bands) and so many of the pubs were full and not admitting any more people -- and there are pubs on basically every corner of Dublin. We met up with some of my friends from London and Brighton briefly and then ate dinner. Embarrassing story #1: Julie and I were so tired after eating our fish and chips that we fell asleep in the booth as Paige and Serra chatted. I had no choice; my eyes were not staying open. I was tired when I landed in Dublin and after hours of walking in massive crowds of green I was even more exhausted.
Lol. We had to.
So we decided to go back to the hotel and take a nap.. or so we thought. We ended up at the hotel and sleeping for like 3+ hours. We woke up groggy but well-rested and in less cranky moods. I knew some friends who were going out in the Swords/airport area for the night but we couldn't muster up that much energy to do that, so we ended up ordering in Domino's pizza, garlic bread, chicken bites (for Serra & Julie), and cookies and watching
Dreamgirls
on TV. So in short, a night known for infamous partying and liveliness (especially in Dublin- apparently 60,000 people celebrate St. Patty's in Dublin each year) was spent crashing in a hotel room with pizza and Beyoncé (#idonthateit).
The following day we were chipper and wide awake and ready to explore a bit of the touristy sites. So we woke up, got brunch at a little place called Mes Amis on Lower Abbey Street and headed to the Guinness Storehouse. The Guinness Storehouse is basically the factory for the Irish stout beer. It's a really cool place, sort of like an amusement park in essence. They have cool demonstrations and interactive facts about hops, yeast, barley and water so that was cool. At the end of the tour everyone heads up to the bar at the very top of the Storehouse and is given a free pint of Guinness. The views of the city from up there is supposed to be one of the best views of Dublin - so that was another added bonus.
Ketchup at Gourmet Burger Kitchen
After that we hung out at some other pubs and met some people who were from East London which was awesome and we went to dinner at Gourmet Burger Kitchen. The Puy Lentil burger with avocado and cheese that I ordered was fantastic. Probably one of the best veggie burgers I've ever had. I will definitely be going back, as there's GBK in London also.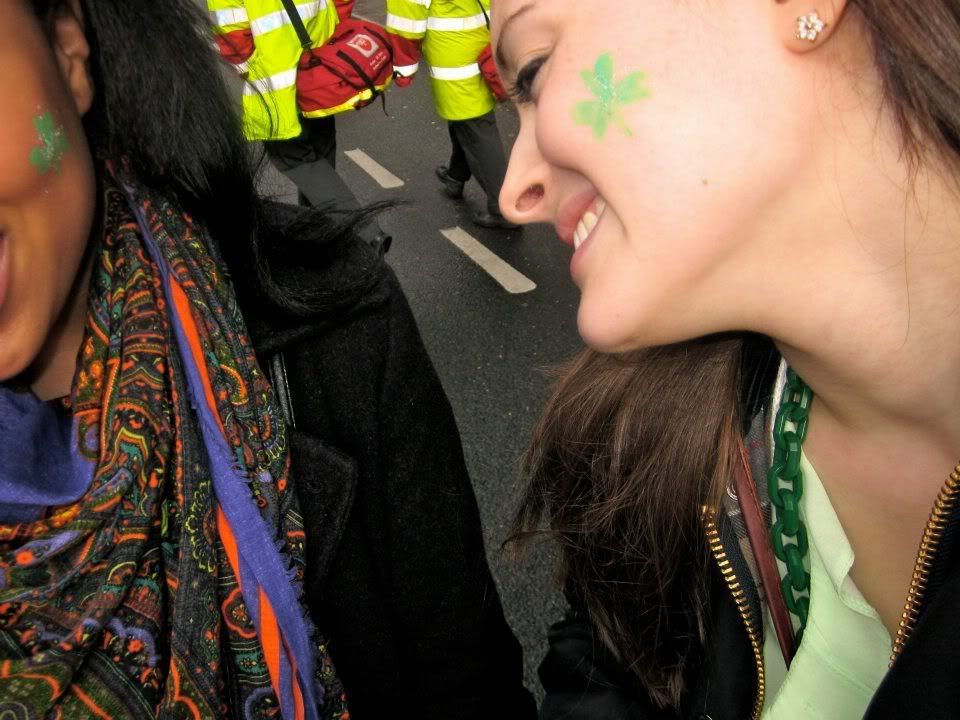 K bye yeee!
Later that night we saw a live ska/reggae band and had a fun time people watching as the crowd was very entertaining. One of the musicians had the largest grin I've ever seen and looked like he was on some sort of what I can only assume to be drugs. We enjoyed observing his everlasting grin. After they finished performing we hopped on the bus to go back home (or so we thought). Eventually we make it to the last stop on the last bus out of City Centre and it's not at the Travelodge. When the bus stopped and we realized it was the last stop, we realized that we made a bit of a mistake. We asked the bus driver how to get to our hotel and he pointed to the bus that was parked a few hundred feet ahead of where our bus was stopped. We literally sprinted towards the bus we needed.. and it before we caught up to it. We missed our bus. In the middle -of-nowhere Dublin. On a dark country looking highway. So we quickly flagged down our original bus driver and he kindly gave us a ride to the Travelodge, which ended up being a solid 15 minutes from where we were before. How that mishap happened? No one knows, but at least the bus driver in Dublin was kind enough not to say "f*** off" a la the driver in Bath. But I digress. We made it back, called it a night after that and woke up at around 3 AM to get ready to head back to the airport and then back to our current homes (Edinburgh and London!).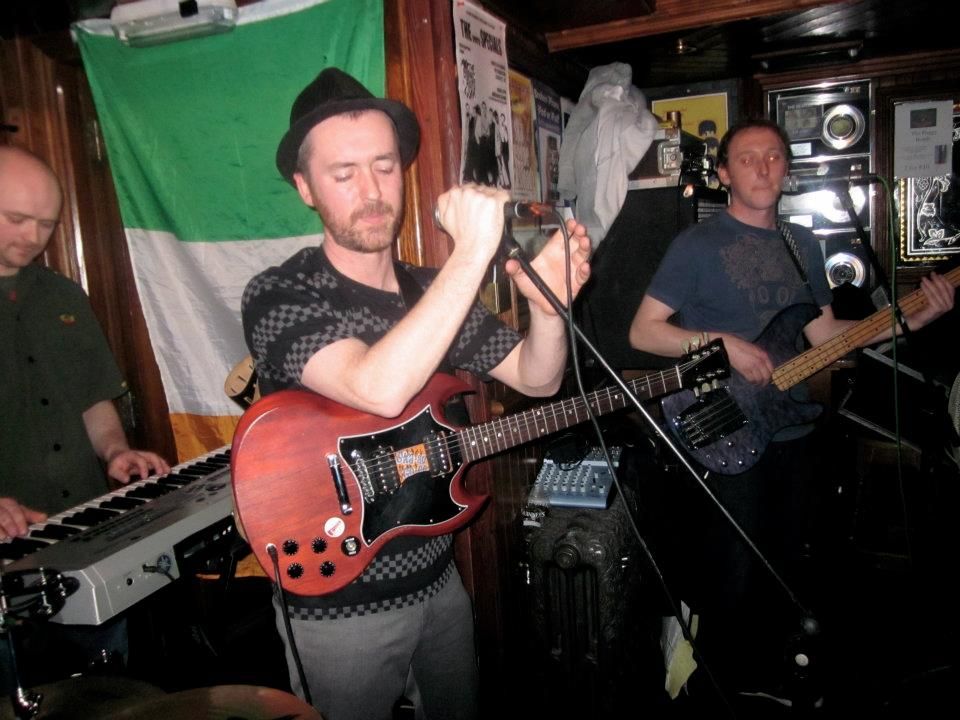 The band
Overall Dublin was way bigger than I thought it was and was a really cool place with a nice vibe. It was better, calmer and less stressful to see the city once a lot of tourists left, as it was nice to not be entirely smashed next to strangers in the street, but overall I'd definitely do it again!