So... I arrived in London safe and sound! The flight went smoothly and was shorter than anticipated, which was nice. I traveled elite business class, which was awesome and my first time for an international flight! The seats were very comfortable (they could lie entirely flat to allow you to sleep like you would in a bed!) and the service was fantastic - I was seriously served countless food items. In the complimentary toiletry kit I even received socks, an eye mask, Korres lip balm and lotion, and travel toothbrush and toothpaste. I watched
Crazy, Stupid, Love
and "Top Chef: Just Desserts" while on the aircraft and slept for a few hours while listening to their music selection feature (they actually had one of my favorite Norah Jones collaboration albums, so I didn't even use my iPod on the flight). Here are some pictures of the meals we were served, amenities, and of the seating of the flight.
After first being seated, I was served warm mixed nuts and ginger ale
Toiletries bag! Very handy actually and Korres stuff was nice too
Appetizer. I didn't eat the first plate as I don't eat meat. The bread & bisque was nice!
Spinach and walnut salad w/ balsamic vinaigrette. LOVED this course!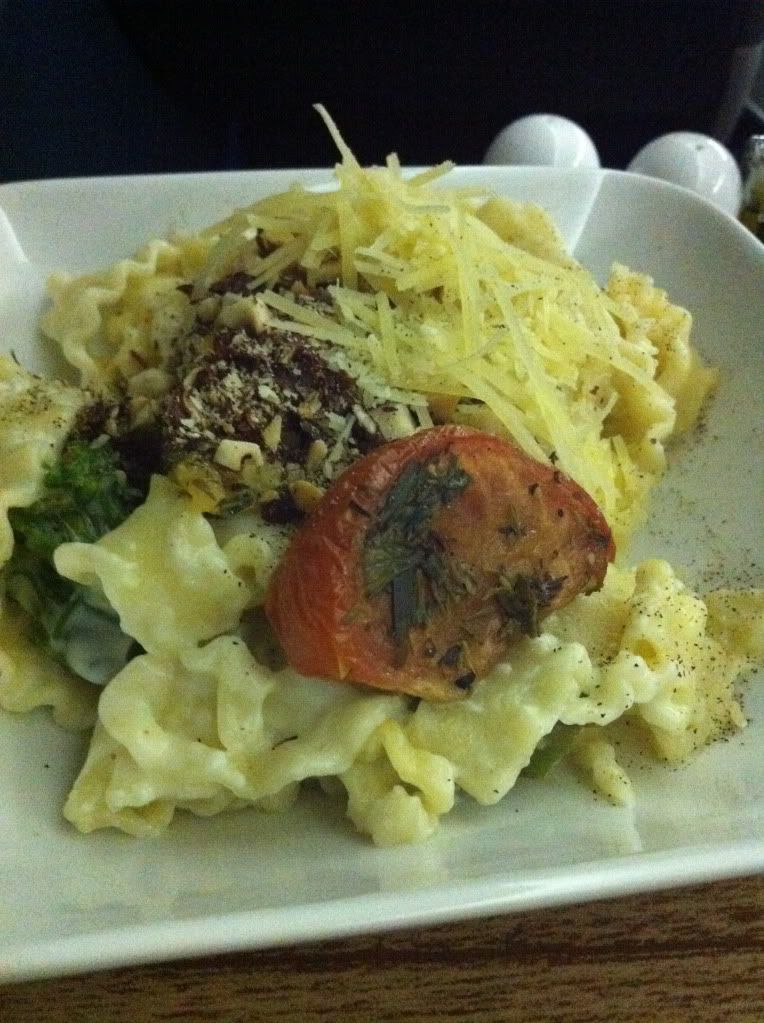 Main course of fettucine with broccolini and hazelnuts
Dessert was a cup of black coffee and ice cream with chocolate sauce & nuts.
After I watched the movies/shows and after my rest, I tracked how far the plane was from London with a GPS-type system the flight has on the screens in front of each seat. This was really useful and handy, as you could tell what you were flying above at all times!
In the middle of the ocean approaching the UK!


For breakfast, we were served granola, fruit, yogurt and a choice of pastries/danishes.
I wasn't very hungry at breakfast and had a bit of granola w/ yogurt and pineapple.






Once I landed at the airport, we had to get to the correct terminal to meet up with representatives from the university and boarded a coach to campus. The ride was almost two hours due to traffic and everything but it was fun to scope out bits of central London. Saw many-a-Starbucks and double decker buses, in addition to random shops or restaurants named after American cities or that were "American-style," which was a bit funny but interesting to see. After I got moved into my flat, I met up with my friend's boyfriend who is also studying here with us as we waited for her to arrive on campus. He and I tried to find the coffeehouse that had free Wifi that the students on campus recommended. After bumbling around for a bit we found it and I was able to FINALLY message my friends and family and go on Twitter briefly. Unfortunately my Internet won't be set up until next week so I have to bum Wifi where I can or use someone else's login. Anyway, after getting my Internet fix, we stopped by a small marketplace that sells convenience items and even produce and frozen food. I picked up a Mars bar just for fun and took a few pictures of some interesting brands that were different from the American ones I'm used to back home in The States.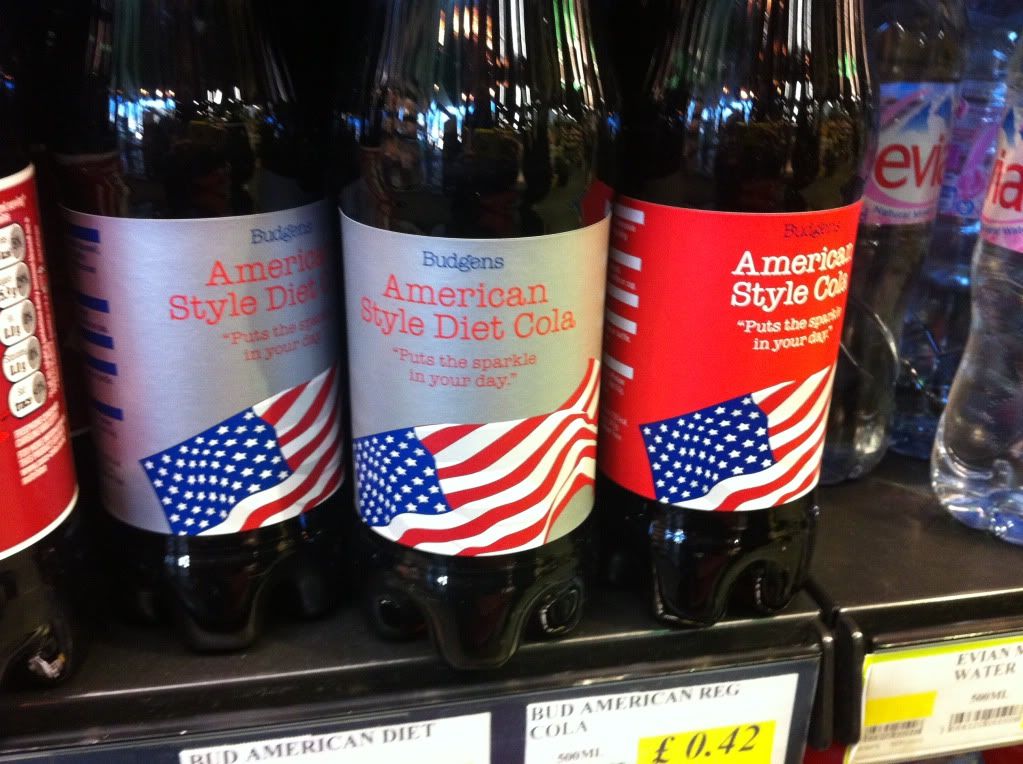 Generic brand of "American-Style" sodas
Looks like they might've been "inspired" by Lays potato chips, eh?


We don't have Mansize Kleenex in the USA to my knowledge! LOL
After browsing the surrounding area briefly, we came back to campus and I met two of my flatmates. They're both guys- one is from Ireland and the other is from just north of London. After dinner on campus of a rather interesting tasting quiche and chips, I came back to my flat and took a nap. I tried staying up as much as I could so as to get on schedule with the time difference but it was difficult and I caved in. After I awoke, I met my other flatmate who is a girl from Wales and her mum who was moving her back in for the semester. I chatted with my flatmates for a bit about the differences between the British and American education systems and universities and about music and places to eat and shop in London.
That's pretty much my trip so far - everything has been going very well so far! I only initially felt confused when I first got to campus and had to lug my luggage to my flat and figure out where my packages would be delivered, but aside from that I love London so far! Hope you're all well and thank you for reading my post here. I want to update this blog frequently so it will serve as a reminder of my time here once I move back home in June.
-Rita