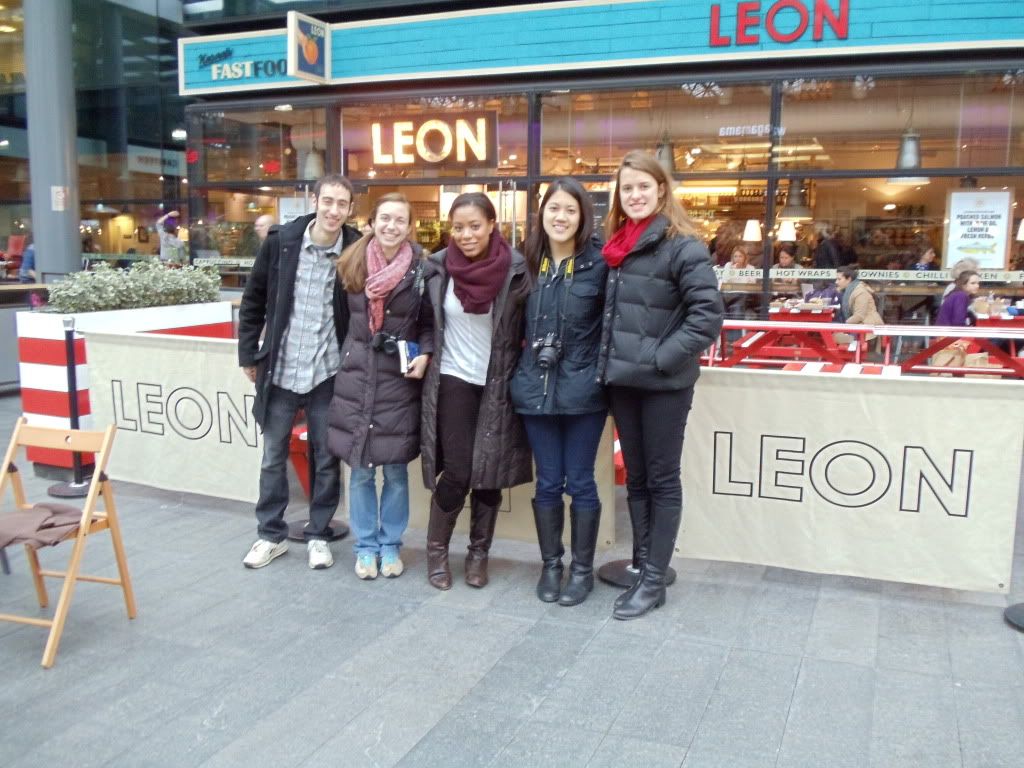 After lunch at Leon in Spitalfields
Yesterday after having a rather interesting incident waiting for the Sainsbury's delivery man to deliver my groceries (basically, he was supposed to arrive in the designated time slot which was between 11 and noon and he was like 20 minutes late, which normally isn't a huge deal, but I was supposed to meet friends promptly at 11:15 to catch the bus. I called the store to see if I could reschedule and when he finally got here he got mad that I called the store and started swearing and saying "he'd get in trouble," which I didn't know but still isn't my fault because they guarantee they will deliver within that time frame. He ended up calling me back after he left and apologized but it was still rather odd), we went to Petticoat Lane Market and Spitalfields Market. Petticoat Lane Market was very similar to some areas of New York City that have outside vendors selling designer-inspired goods and what has to be counterfeit or bootleg movies and CDs. It was fun to see, but I doubt I'd go back anytime soon. Spitalfields was really nice! I loved it there a lot. The market area is huge and there are a ton of vendors with a large variety of goods, from baked items to posters to jackets and jewelry. That was a ton of fun to see!
There are also a ton of restaurants near there and we had a hard time choosing where to grab lunch, but I had heard of Leon on Youtube so we decided to go there. We all really liked it! The Meal Deal they offer is a pretty good value, I got a sweet potato falafel wrap, chips, and a freshly made lemonade they make there for about £6. After that, we continued browsing the markets a bit longer and saw the cutest cheese and wine shop that has fondue! I love fondue!
Eventually, we figured out how to get back to campus and then a friend and I stopped by a local market to grab cheese for the dinner I was going to prepare for myself (a spinach and feta omelette - which ended up being made with mozzarella, as I couldn't find feta). After making dinner, I chatted with my flatmates for a bit and figured out my classes a bit more with my friend who is in three of my four classes that begin meeting tomorrow, and then fell asleep promptly after. I still get tired here at sort of off-times and end up waking up in the wee hours of the morning from my sleep sessions, but hopefully I'll be more regular with sleeping soon. Thanks for reading!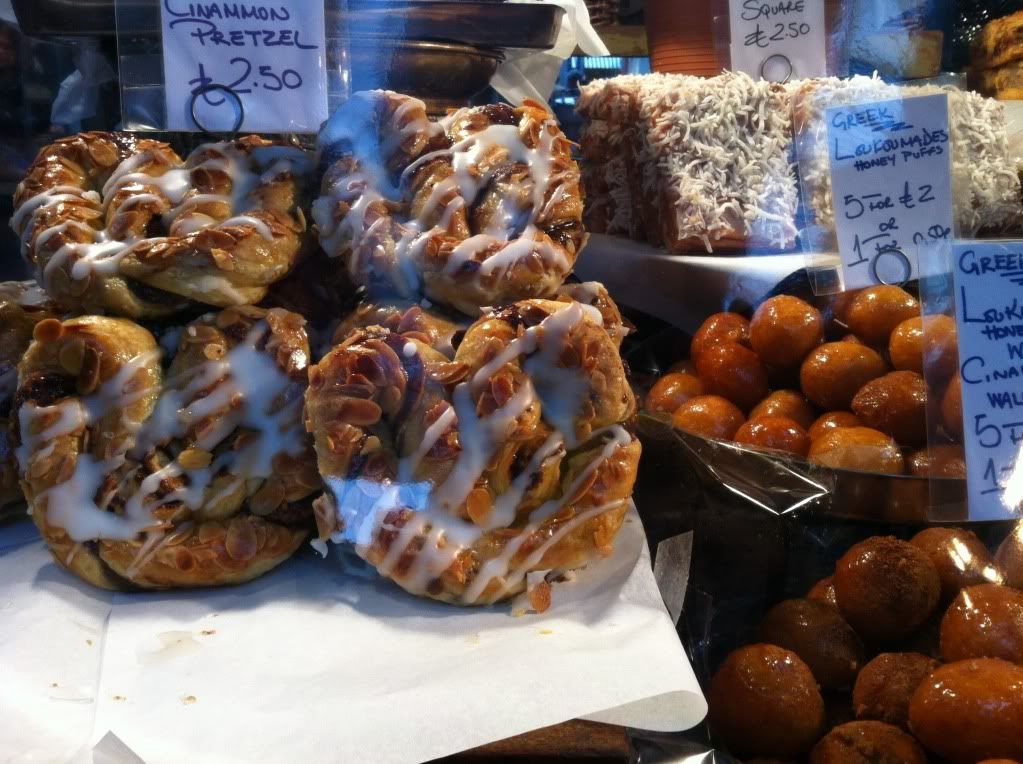 Bakery vendor - look at those pretzels!
Lunch at Leon
Olives and Baklava
This made me laugh
Candy bars we don't have in the US